No Penalty For Delay Of Puck Cakes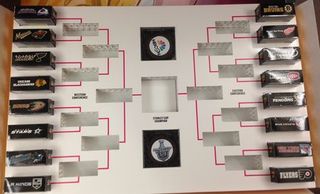 Multichannel News got the Blues with NBC Sports Puckcakes game. As in St. Louis Blues.
In a riff on "You snooze you lose," or in this case you don't get to choose, or chew (as many), yours truly was the addressee of NBC Sports Group's and Civic Entertainment Group's latest Stanley Cup experiential promotion. But working from home on April 16 resulted in my missing the two referee-uniformed delivery men, who brought the game, carrying Puck Cakes, limited-edition variations of the acclaimed MallowMore dessert from chef Thomas Keller's Bouchon Bakery. Each was adorned with an edible logo of one of the 16 NHL teams comprising the 2014 playoff field, which is being presented Stateside by NBCSN, NBC, CNBC and NHL Network.
By the time my stake was claimed, only the Blues were left. That's not a bad thing, according to Melissa Andus, HR exec at MCN publisher NewBay Media, and co-founder of Faceoff Violation hockey website. She thinks St. Louis, which was ravaged by injury down the stretch, can make a run out West if they get healthy. By the way, what should have been Andus's Rangers Puck Cake was iced before it got to her desk.
The Puckcakes game was sent to teams, celebrity hockey fans, social influencers and TV and radio personalities, who subsequently talked up the NHL's new playoff format, which doesn't include reseeding in the event of upsets as in seasons past. John Miller, chief marketing officer of NBC Sports Group, said the promotion did the trick, generating plenty of social media buzz and on-air chatter. "We received about a 10-fold media value, than if we had bought the time," Miller said.
NBC's marketing maven also provided some level of comfort, explaining that the Puckcakes game box ticketed for NBC Sports Group chairman Mark Lazarus office was intercepted by the finance department.
Miller and Civic Entertainment, though, wisely anticipated that the Bouchon Puck Cakes wouldn't survive the spring: The game's bracket setup housing the cakes can still showcase the side of the individual puck's packaging that sports the NHL's team name and logo, which can be advanced round by round in pursuit of Lord Stanley's Cup. Go Blues!
The smarter way to stay on top of the multichannel video marketplace. Sign up below.