No Bull: Longhorn Network Greets Christmas with Bevo Cam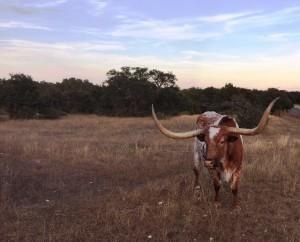 Say what you will about the exalted status of SEC football and the not-so-glorious present for UT on the gridiron.
But when it comes to Christmas morning viewing, it says here you have to steer the remote toward Longhorn Network, ESPN's 24-hour service devoted to the University of Texas.
SEC Network will accompany Santa's bounty with a four-hour run, from 6 a.m. to 10 a.m. (ET), of the Yule Log, favored by channel 11 over the years in these parts of the Big Apple. Although the service will play holiday favorites like "Oh Christmas Tree", "Jingle Bells" and the "12 Days of Christmas," all commercial-free, the glad tidings to the men, women and children of the SEC Nation will truly come in the form of the school's fight songs, like "Fight For LSU" and Auburn's "War Eagle."
The other 12 conference members' songs will also sound nicely against the backdrop of the burning log: "Yea Alabama," "Arkansas Fight," "Orange & Blue" (Florida), "Glory, Glory" (Georgia), "On! On! U of K" (Kentucky), "Forward Rebels" (Ole Miss), "Hail State" (Mississippi State), "Fight, Tiger" (Missouri), "Step to the Rear" (South Carolina), "Down the Field" (Tennessee), "Aggie War Hymn" (Texas A&M) and "Dynamite" (Vanderbilt).
If one has to give the aural edge to SEC Network for its more diverse playlist, no bull it's UT on the visuals on Christmas morning: Longhorn Network is going all Bevo -- the school's mascot (pictured)-- all the time, or at least from 7 a.m. to noon (CT).
The special, Bevo Home for the Holidays, driven by the first-ever Bevo cam, will enable fans to watch the longhorn roam his natural habitat with friends, while also enjoying songs of the season.
The commercial-free event will be brought to viewers courtsy of the Bevo Fan Club and Neighborhood Longhorns Program, which is partnering with the Austin Independent School District "to help little Longhorns Dream Big".
"Bevo holds a special place in Texas fans' hearts, so what better gift for our viewers than to have him join the family at home for the holidays" said Jill Husak, LHN's director of marketing. "Beloved Bevo on his scenic ranch, combined with holiday music, will make the perfect television background when Texas fans gather on Christmas morning."
Eat your heart out Mike The Tiger.
The smarter way to stay on top of the multichannel video marketplace. Sign up below.