Nexus Player Gets Mixed Reviews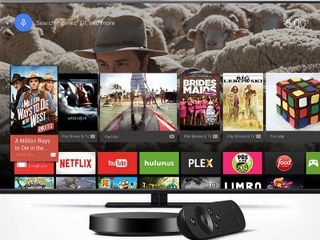 Based on the early reviews, the Nexus Player, the first device to be powered by the new Android TV platform, has some promising capabilities along with some rough edges and shortcomings, making it a product that will likely have a hard time gaining much ground on the Apple TV and Roku.

Here's a rundown of some the early takes on the Nexus Player:
-CNET gave the device's voice search capabilities some high marks, but found the native app section "abysmal compared with that of Roku, Apple TV and Amazon Fire TV," a new box that used a "forked" version of Android. Until the Nexus Player gets a "major infusion" of native apps and more developer support and the integration of more non-Google services, the Nexus Player "offers no compelling upgrade over other streaming devices."
-Engadget called the Nexus Player a "great, if imperfect, introductory showcase for Android TV." The reviewer liked the device's simple UI, Google Cast abilities, and voice search functions, but also found it to have some bugs and an app library that doesn't live up to the competition. "While I hesitate to recommend the Nexus Player due to some chintzy hardware and the lack of Ethernet, Android TV is a platform worth keeping an eye on," the reviewer added.
-Giving it a score of six out of ten, Wired's lukewarm review called it an "okay player," again giving the nod at this stage to the Roku and Amazon Fire TV due to the Nexus Player's dearth of native apps, something that Google will obviously look to improve upon as more Android TV-powered devices start to hit the market. On the other hand, the Nexus Player's voice search, YouTube integration (a "powerful, streamlined content engine for the entire system"), Google Cast capabilities and overall "web-savviness" does set it apart from other devices, the reviewer found.
-Gizmodo's review was a bit harsher, noting that consumers "should probably steer clear till Google gets its [stuff] together. Until it does, the $100 Nexus Player just isn't a good buy." Gizmodo also panned the device's curated version of the Google Play app store and had trouble connecting the device to WiFi and keeping the Bluetooth game controller paired to the Nexus Player, but still found some things to like. "Android TV looks brilliant. The layout is about as intuitive and powerful as could be."
The smarter way to stay on top of the multichannel video marketplace. Sign up below.