The Next Big Thing in Video Streaming Is: NOT STREAMING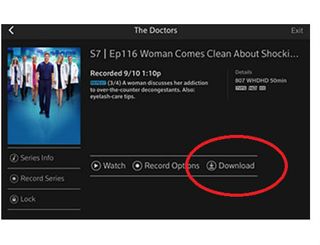 There's a growing trend afoot in video streaming. It's called – wait for it – not streaming. That's right – it's about downloading the content to the mobile device, to be able to watch the video anywhere, anytime, regardless of the availability of a robust WiFi connection. This is because today, and the foreseeable future, ubiquitous broadband connectivity simply doesn't exist.
With download-to-go, streaming video services can finally offer "bingeable" content to customers wherever and whenever, even when on the road and off the grid. Best of all, that horrible buffering we have all experienced won't ruin the movie stream because the viewer won't be trying to tap into the limited bandwidth of the local WiFi.
Downloading and offline viewing capability of streaming video will soon be a staple of nearly all services. A rapidly growing list of content creators and distributors have launched or are launching streaming video apps that include download functionality to meet this demand.
For example, Amazon has been providing download for some of its programming since September 2015. With the April 2016 launch of its new app, Starz became the first premium pay-TV streaming service to offer download-to-go. Starz joined a growing group of cable operators, TV networks and other OTT providers who give their customers the ability to download content from their streaming video service for offline viewing. Netflix CEO Reed Hastings recently shared that Netflix is "considering" adding a download option to its service (that's Netflix-speak for "we will be launching it soon").
Downloading is not a new technology. In fact, purchasing music or movies for download was the way many of us were introduced to digital media. Downloading video is already wildly popular: video content has surpassed music as the most downloaded entertainment category.
More than 40% of consumers download movies/TV shows on a daily or weekly basis (Limelight Networks, The State of Digital Downloads, April 2016). Downloading will become even more popular among consumers as more streaming video services offer it and consumers learn how it enables them to enjoy truly mobile video content.
Download-to-go is undeniably good for consumers, but the biggest benefits flow to the streaming video services that offer it. Download-to-go improves the overall experience of consumers. But, more important for those concerned with things like ROI, download-to-go extends and expands the ability of a business or brand to engage with its customers. By making video entertainment truly mobile, without regard to location or Internet connectivity, download-to-go makes it possible for consumers to engage with a streaming video app anywhere, regardless of the availability of an Internet connection. The combination of consumer demand and business benefits makes it inevitable that download-to-go will soon be a feature of every successful streaming service.
With an ever-growing number of streaming video services seeking to add download-to-go, many product and platform executives will be turning to their technology teams or vendors to address this need. While it is easy to see that adding download-to-go is a good idea, it isn't that easy to integrate a user-friendly download-to-go experience into an existing streaming video tech stack. (In other words, "don't try this at home.") Carelessly adding a downloading/offline viewing function to a streaming service will backfire if it fails to create a simple, seamless and secure consumer experience. There are many considerations when implementing download-to-go, including:
1. Speed: High speed downloading is critical: Consumers don't have infinite patience and are often in a hurry when they want to download a program.
2. Configurability: The downloading function should be configurable to enforce content windowing and other business rules, as well as consumer preferences, such as whether to permit download over cellular or when the battery is in low-power mode.
3. Background Downloads: Downloading should continue when a user puts the streaming app in the background to send emails or texts. Without this feature, disappointment is inevitable.
4. Security: The downloading solution must maintain the streaming service's digital rights management or other security.
5. Notifications: Completion of a download should trigger a notification that the video is ready to view.
Offering consumers download-to-go will attract new customers and build loyalty among existing ones, reducing marketing acquisition expense and churn. This will only occur if the download-to-go product enhances the customer experience.
Nothing turns off users faster than experiencing delays or interruptions when they are trying to view or download content. Before investing in its own or a vendor's downloading/offline viewing solution, a streaming service should make sure that solution is secure and reliable, and that it has the features that will make it a customer favorite, not the source of frustration and customer service calls.
-Dan Taitz is chief operating officer of Penthera Partners Inc.
The smarter way to stay on top of the multichannel video marketplace. Sign up below.