Netflix Subs Would Pay More to Keep Service Ad-Free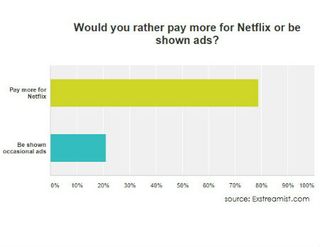 While Netflix is inserting ads that promote its original programming, the over-the-top subscription video service has been adamant that it does not and will not splice in third-party ads, meaning it'll sidestep Hulu's hybrid subscription/advertising revenue model for the foreseeable future.
A new study (hat tip: DSL Reports) seems to indicate that Netflix would do well to maintain its current course.
Per a poll from Exstreamist, 79% of 100 Netflix subs said they would rather pay more to the provider to keep it ad-free. About 44% said they'd be willing to fork over an extra $1 to $3 more per month, and 27% said they'd be willing to pay $4 or more.
But as Netflix has discovered before, raising rates can lead to subscriber churn. But moving to an ad model could also do some damage, too, as the same survey found that 56% of Netflix subs said they would likely cancel if they were forced to watch third-party ads. But 54% said they'd be okay with the idea if it meant Netflix could significantly boost its content library. So, there are some tradeoffs to consider.
The good news for Netflix is that most subs were generally receptive about seeing ads promoting Netflix's own content, meaning the provider appears to be on solid ground for now.
The smarter way to stay on top of the multichannel video marketplace. Sign up below.
Thank you for signing up to Multichannel News. You will receive a verification email shortly.
There was a problem. Please refresh the page and try again.