Netflix Regulars Watch 10 TV Shows Per Week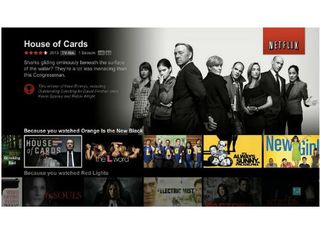 We already knew that Netflix dominates the downstream of fixed U.S. ISP networks, but new data from GfK offers a different angle on how the OTT-SVOD service is impacting consumer viewing behavior.
GfK's study found that "regular" (monthly) Netflix users in the U.S. watch 10 TV shows per week through the service, as well as four movies during the same timeframe. For TV content, that's a doubling of the number of shows per week those Netflix users were watching when GfK conducted a similar study last year.
"Projected to the full population, this means that the average US consumer ages 13 to 54 watches roughly 5 TV shows and 2 movies per week via Netflix using one or more platforms," the company said of the study, titles: Over the Top TV 2015: A Complete Video Landscape.
Among other findings, GfK said Netflix viewing on mobile devices has also more than doubled in three years, with 24% of regular Netflix users saying they viewed the service on one or more mobile platforms in the past month, up from 10% three years ago.
Monthly viewing on TVs, meanwhile, has also risen -- from 36% to 47% among the same group, while watching on PCs (laptop or desktop) has jumped from 17% to 25%.
Roughly one-quarter of those regular Netflix users say they binge-view, meaning they watching three or more programs in one sitting, "often" or "all the time."
"Netflix is a TV ecosystem unto itself, and now an established force in the total TV marketplace," David Tice, GfK's SVP of media entertainment, said of the findings. "But it represents just one aspect of an increasingly complex OTT picture, which also includes subscription services like Amazon Prime and Hulu, delivery systems such as Roku and Apple TV, and threatened incumbents like cable and satellite companies, which are trying to leverage their content with TV Everywhere options. "
While OTT is clearly going mainstream, it's also a source of confusion for some consumers. The study also found that three of four people saying they had HBO Now, HBO's new standalone OTT subscription offering, actually had HBO Go, the programmer's authenticated TVE service.
The smarter way to stay on top of the multichannel video marketplace. Sign up below.
Thank you for signing up to Multichannel News. You will receive a verification email shortly.
There was a problem. Please refresh the page and try again.