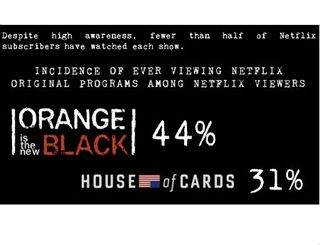 Netflix flat out doesn't disclose usage stats for any of its content, let alone its most popular originals, but Centris Marketing Science has released the results of a survey that sheds some light on those numbers.
Based on a survey of 562 U.S. homes that are part of Centris's "Evolution Of Video Community," the general finding bottom line finding is that awareness of two popular original series – House Of Cards and Orange Is The New Black – is high among subs and non-subs, but that fewer than half of Netflix subs have watched either.
Awareness of Orange Is The New Black is a lofty 94% among Netflix subs, and 72% among non-subs, while 89% of Netflix subs and 72% of non-subs were said they were aware of House Of Cards.
On the viewing end, 44% of Netflix subs surveyed said they have watched Orange Is The New Black, while 31% said they have watched House Of Cards.
Netflix doesn't sell ads against those shows (or any of its content), so there's a bit of so what about those figures because Netflix's business is about subscription and revenue growth. But originals, which aren't cheap for Netflix to produce, do help to drive and retain subscribers, so how well those originals are performing still means a lot – and now we have a sense of how two of Netflix's top originals appear to be faring
Centris also took at look at how Netflix subs are watching those originals – and most gravitate to the big screen. About 76% said they stream House Of Cards and via the TV, while 70% do so for Orange Is The New Black. That compares to 48% for House of Cards and 51% for Orange Is The New Black for streaming to a mobile device. Roughly 24% of Netflix subs stream House Of Cards on both ends, while 52% do for Orange Is The New Black.
Elsewhere in Netlix-ville this week, CEO Reed Hastings too to Facebook on Wednesday (August 6) mention that Netflix topped HBO in subscriber revenue (1.14 billion vs. $1.14 billion), labeling it a "minor milestone" for the streaming company, which ended the second quarter with a 50.05 million subs worldwide.
But that doesn't mean he's still not jealous of HBO in other areas. "They still kick our ass in profits and Emmy's, but we are making progress," Hastings wrote. "HBO rocks, and we are honored to be in the same league. (yes, I loved Silcon Valley and yes it hit a little close to home.)
At last check, 1,053 FB users "liked" Hastings' post.
The smarter way to stay on top of the multichannel video marketplace. Sign up below.
Thank you for signing up to Multichannel News. You will receive a verification email shortly.
There was a problem. Please refresh the page and try again.