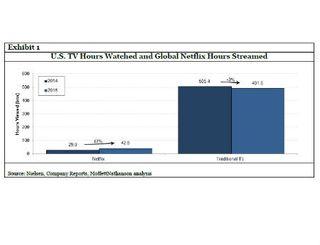 In a fresh study that probably won't aid Netflix in its negotiations to secure digital rights to shows from cable networks and other programmers in the traditional pay TV sphere, the OTT giant was responsible for about half of a the 3% decline in the U.S. TV viewing audience last year.
That's per Moffettnathanson analyst Michael Nathanson, who presented his findings this week in an updated report under the heading: Is Netflix Killing TV?
Nathanson's study, a follow up on one issued last April, also forecasts that it the affect will only grow – with Netflix's percentage of overall TV viewing expected to climb to 14% by 2020, up from 6% today.
"Based on our analysis of Nielsen data, Netflix's domestic streamed hours would equate to about 6% of traditional TV hours vs. over 4% in 2014," the analyst noted. "Given that the number of traditional TV hours fell by -3% in 2015, on can assert that half of that change can be sourced by Netflix."
Furthering that connection, Nathanson said Netflix could be viewed as larger than the smallest cable networks, but still smaller than the seven largest cable and broadcast TV conglomerates. (NBCUniversal, Disney, Viacom, Time Warner Inc., 21st Century Fox, Discovery and CBS).
But weighed in to this is that the impact of Netflix and other SVOD services are more significant in certain pockets of the ecosystem, and skews more heavily to certain age groups. Penetration of those services, Nathanson points out, in broadband homes under the age of 45 is 75%-plus, double the rate of penetration among homes with residents who are 65 or older.
But it's not bad news across the board for the traditional TV world.
He found that networks like ESPN and Adult Swim generate more hours of consumption in Netflix homes than in non-Netflix homes, suggesting that they remain essential to core Netflix users.
It's a somewhat mixed bag elsewhere, as the analyst pointed out that total viewing hours increased at Time Warner, Discovery, Scripps Networks and AMC Networks, but dropped at networks run by A&E, Viacom, NBCU and Disney.
"Currently, Netflix is a source of industry pain, but not necessarily a cause of industry death," he wrote.
Netflix ended 2015 with 74.76 million subs worldwide, including 44.74 million in the U.S.
The smarter way to stay on top of the multichannel video marketplace. Sign up below.
Thank you for signing up to Multichannel News. You will receive a verification email shortly.
There was a problem. Please refresh the page and try again.