NCTA Happy That New Apple TV Is Appy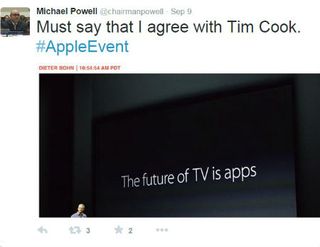 When Apple CEO Tim Cook declared that "We believe the future of television is apps" as he introduced the new Apple TV yesterday, it was music to the ears of the National Cable & Telecommunications Association.
"Must say that I agree with Tim Cook. #AppleEvent," NCTA chairman Michael Powell tweeted during the event, pairing it with a pic of Cook on stage with the words "The future of TV is apps" behind him.
John Solit, NCTA's senior director of digital strategy, took that endorsement a step further today in a blog post about the state of the retail market for video devices and, of course, the new Apple TV and its new new operating system and Apple's decision to go with an open approach that will likely bring a flood of apps to the platform.
"It has been for some time and the way we see it, the new Apple TV, while a great conduit to cable programming via iTunes download and specialized programmer and operator apps, is direct competition," Solit wrote. "But this kind of competitive innovation is opening up a world of possibilities – especially for app makers. The TV experience is constantly changing and innovation in the app space is where it's changing the fastest and to the greatest effect. Apple CEO Tim Cook said it most succinctly when he proclaimed, 'The future of TV is apps.' We couldn't agree more."
He then listed examples such as HBO Go, Watch ESPN and apps from Comcast and TWC. "These apps have been downloaded millions of times and are available on 460 million connected video devices – twice the number of leased set-top boxes."
That the NCTA likes what Apple's saying with respect to apps also isn't a huge surprise, as it fits with the cable industry's position with respect to the specter of possible new removable video security rules that could succeed the CableCARD, focus on downloadable options and apply to different types of MVPDs, not just cable operators.
The FCC-appointed Downloadable Security Technical Advisory Committee (DSTAC) submitted proposals late last month that were anything but unified. Among the proposals was an app-based approach that's favored by the cable industry, which has argued that natural market forces, not more mandates, should pave the path forward with respect to retail set-tops and video devices. You can read the whole thing here.
The FCC Media Bureau is currently seeking public comment on the DSTAC report.
The smarter way to stay on top of the multichannel video marketplace. Sign up below.