NBA Finals: Ratings Should Heat Up Early With Miami-San Antonio Rematch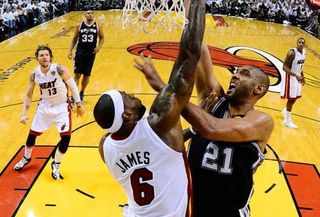 Are pro basketball fans ready for the Heat-Spurs rematch, for the third Finals meeting between The King and Old Man Riverwalk? Adam Silver and John Skipper certainly hope so.
Arguments can be made on either side of your beverage of choice. What supporters don't want to witness LeBron James's continued ascent to the higher reaches of the roundball pantheon? Or has the antipathy among LeBron loathers waned in light of his two rings and the prospects of him leading Papa Riles to a presidential Heat threepeat? Surely, there has to be some concession to LBJ's greatness -- no matter how begrudging.
As to those who favor San Antonio's fluid ball movement and team-first approach, isn't it time that wrongs were righted, that the missed free throws and rebounds not gathered in the final 28 seconds in Game 6 of the 2013 championship series, are Finally put aside? Or do far too many still refuse to value Tim Duncan's all-time fundamentals, Tony Parker's joie de jeu, or Manu Ginobli's arsenal of international styles?
Through the first five games a year ago, the NBA Finals was on course toward four-year lows in ratings and viewership, scoring at 9.1 rating and 15.1 million audience clips.
But that was before the exultation of the Heat and despair of the Spurs came across our screens in Game 6 and Game 7, which tallied a 12.3 rating and 20.6 million viewers and a 15.3 mark and 26.3 million watchers, respectively. The latter was the second-most-watched telecast – behind the 28.2 million for the Lakers' Game 7 win over the Celtics in 2010 – since ABC reacquired rights to the pro hoops circuit in 2003.
As such, the 2013 NBA Finals ticked ahead to an average of a 10.5 rating and 17.7 million watchers, up 4% and 5% from the 10.1 and 16.9 million for the Heat's five-game stomp of OKC in 2012.
It was the reentered ABC's third best behind the 10.6 and 18.1 million averages for LA-Boston in 2010 and the 11.5 and 17.9 million for Detroit's five-game upset of Kobe, Shaq and Phil in 2004.
Let's see if things, er, heat up from the get-go, or will it again take some last-second heroics to spur viewership this time round.
The smarter way to stay on top of the multichannel video marketplace. Sign up below.