Musings with 'Mike & Mike'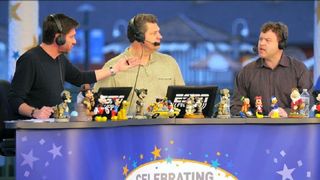 Mike & Mike, ESPN's long-running morning talk show, reached its 15th year anniversary on March 6.
The milestone show unfolded at Disney World, where a live audience and regular show contributors, comedian Frank Caliendo, ESPN Radio's Mark Schlereth, ESPN pro football analyst Cris Carter and the worldwide leader's MLB Insider Jayson Stark, joined the guys. Greeny and Golic also were saluted via call-ins by musician Jon Bon Jovi, two-time SEC coach of the year Bill Curry, and NFL Hall of Famer Jim Kelly. The hosts' wives, Chris and Stacy, and Greeny's children were also on hand with a special gift for the boys.
In separate conversations – scheduling conflicts prevented all three of the Mikes involved here from speaking together – the takeaway is that the MGmen are in many ways more alike than their personas as Mutt/Jeff, ex-NFL player/journalist, or as Greenberg said during his show audition his 1 to Golic's 0. The latter was an allusion to his body and Golic's then-much-larger frame.
Greenberg and Golic touched on their routines, the show's evolution, Twitter, the 15th anniversary show and their future.
Wake-Up Calls. Living further from ESPN headquarters than his partner, Greenberg sets his alarm for 4 a.m., before getting into a car headed for Bristol: "It's the best time of my day, pure preparation. There are no phone calls. I see all the highlights, and the stats to back them up." He checks out Twitter and all the opinion columns.
Golic is a 4:15 a.m. riser, who still glares at the clock after all these years. "Any time you're getting up before 5 a.m., it's tough," he said. "But when I get there, and see the crew, I started to get revved up."
They meet at 5:30 a.m. for make-up and last-minutes talk-through, before the show kicks off at 6. As Greenberg said, the game plan is to try and "diagram" the first hour, before the guests and segments are scheduled and the show becomes more formatted.
A post-mortem follows sign-off at 10 a.m. and preparation ensues for the next day. There's constant communications with the team, talks with producers and bookers. Still, the upcoming night's action hasn't occurred yet, so many storylines have yet to materialize.
Goodnight Greeny, Goodnight Golic. Although events can certainly disrupt their sleeping habits, Greenberg tries to hit the hay in the 8 p.m. hour, while Golic turns in about an hour later, "if I can wind down." Both said their professional schedules had been beneficial to their relationship with their progeny.
"I never saw them go to school, but when they wanted me, I always was around after school," said Greenberg. "It's been great. More than any man or woman I know who works full-time, I got to spent time with my children."
Golic echoed those sentiments: "Getting home around 11 or noon, I got to spend a lot of time with my kids as they were growing up. I was a lunch dad and a coach. It's been great."
Now For Something Completely Different. Preparation aside, the best-laid plans of morning men and their team oft-times go astray. And they prefer it that way.
"What we've targeted as a group and what might happen on the air can be entirely different," said Golic. "What you want is an organic show, with the right feel. You just never know when we get into something. We might start again on whether Batman is a superhero…"
Greenberg noted that "you plan. But it might be something I say or that Mike says and then we go in another direction and that starts to take on a life of its own. The best days are when something entirely different happens. ''
Twitter times. The social network is playing an increasing role in making that happen, as listeners/viewers fire off questions and comments to @Espngreeny, @espngolic and @mike&mike.
"We get a lot from Twitter. We spend a lot of time now on what viewers have to say," said Golic. "[Social media coordinator] Nick [Rego] has been a real boon for us."
Golic said that "back in the day, you discussed what happened after the show. Now, the feedback is instantaneous. It's great to be able to adjust on the fly to what's working."
Greenberg also spoke to that digital duality.
"As a host, you try to find a pulse, what's interesting to people. For years, you relied on your gut, but you were largely guessing. With Twitter, you can gauge what's happening. If it's not resonating, you move on quickly. Conversely, you can find something you didn't necessarily think would connect. Twitter as a tool, its most useful function is to provide instantaneous feedback to help shape the show.
Multiplatform Evolution.
Over its 15 years, the show has taken on many forms. "When we started it was an AM radio show," said Golic. "Then it went to XM, and then TV. Now, there are podcasts and Twitter. It's no longer ESPN Radio, but ESPN Audio. Our show has grown a lot. You have to adapt or die."
Greenberg quickly went to the m-word –multiplatform. "It's not a radio show on TV, or a TV show on radio. There are multiple touchpoints. People are checking us out in a variety of ways -- on the radio, TV, downloading a podcast, live streaming at work, or watching on their phone."
Whatever platform fans prefer, Greenberg views the show as "a four-hour conversation that reaches people in different ways."
Content is also malleable. "We're constantly tweaking the show, trying to make it better. 'Just Shut Up,' it's one of the things the show is best known for," he said. "But it had run its course. I'd be disappointed if the show wasn't different a year from now."
Beckoning Burrell. The show has featured many guests from the world of entertainment over the years, including recurrent visitor Darius Rucker and Jerry Seinfeld, the comic whom Greenberg "idolizes." During the 15th anniversary show, Ty Burrell offered back-handed congratulations of sorts, saying that watching Mike & Mike had caused him to flub lines over the years.
Both guys were tickled. "I love Ty Burrell, I love Modern Family. His Phil Dunphy is just a big, goofy idiot, who is so intrusive to his kids. I can identify," said Greenberg.
Golic, also a Modern Family watcher, noted that he likes action movies: "I'm a big fan of The Rock."
He's also wants to host remote from a certain residence in DC: "I would like to go back to the White House; we had a great dinner there," he said. "I don't think they would let us, but I would love to do the show from there."
Calibrating Caliendo. Fans know the show has increasingly tapped the talents of Frank Caliendo and the teammates listed the same impressions at the top of their lists
"I've been watching ESPN since it launched when I was 12-years-old," said Greenberg. "Chris Berman is now my favorite Caliendo impression. Jon Gruden, that's become a highlight…What a niche, Frank's found. He was born to be part of radio. For us, it's great part of show. When you see these people, you expect to see them talk like Frank speaks."
After also paying tribute to his job imitating the long-standing ESPN host, and its Monday Night Football analyst, Golic said Caliendo's version of "[NFL analyst Mike] Ditka chewing gum is unbelievable" and pointed to his Morgan Freeman-style reading of LeBron James's going home letter. "It wound up on Fallon on The Tonight Show. Frank's great at stand-up and he's been a wonderful addition to our show."
Stark Reality. Jayson Stark, ESPN's MLB insider, has been a fixture in the M&M lineup over the years, pitching trivia questions that have left the hosts flailing weakly. Both used the word "horrific" to describe their performances.
"We're not even near the Mendoza line," said Greenberg. "Jayson revels in it. He's so demeaning to us. He's a frenemy and one of the best parts of our show."
Golic believes Starks might have grooved one during the 15th anniversary show, with the question: Which two pitchers have won 200 games over the course of the show's span. The answer can be found below.*
"I think he was nice to us; he gave us a change-up. He's tough," said Golic. "That's why on the few occasions we win, we get up and dance." For the record, Golic twerked a bit on March 6.
No crying in morning sports shows. The guys almost did, though, when they joined their wives on the main set at Disney World during the final segment of the anniversary celebration. Greeny's kids held up a gift from the company and ESPN executive vice president of programming and production John Wildhack, featuring framed photos of them with their families, and handwritten notes from the children. The gifts were shipped back to their homes in Connecticut and when we spoke last week, neither had read them. They were very grateful about that, relative to on-air perusal.
"When I saw my wife Chris starting to cry and Greeny's wife Stacy was, I knew if I looked, it would have been tough," said Golic. "The last few minutes would have been a lot of tears, and not a lot of speaking."
Greenberg brushed back the feeling by adapting an old trick. "When you have motion sickness, they tell you to stare at a fixed point on the horizon," he explained. "I locked into the crowd."
Whither wagering? Tis the season for March Madness and the MG boys have engaged in many sheets of integrity bets that have yielded humilating results. But those heady or dark days – depending on the winner and loser's perspective -- are seemingly behind them.
"Having a cow poop on Greeny, it's hard to top that," Golic recalled with glee, as his partner couldn't dodge droppings while milking bovine Vanessa. "We'll still make our picks, still have our sheets. It will be lot more of us versus viewers and giving them a chance to win some prizes."
Addressing the sheets of integrity adaptation, Greenberg agreed that it's time to move on because it "feels like anything we do would be smaller than what we've done before."
But it was a Notre Dame-Northwestern football bet last fall that turned into a big moment in more ways than one. For those who don't know, the alumni wager saw Greeny's Wildcats upset Golic's Fighting Irish. The fallout came courtesy of Chris Golic, who instigated matters by saying her husband would get oiled up and do his best impression of Kim Kardashian's Paper magazine pose if ND lost. Golic's butt photo featured the big guy adorned with faux pearls around the neck and a well-placed bow that occluded some of his backside. It didn't break the Internet, but it came too close to comfort for many who are still regaling in the image.
On Friday, both guys came up winners. During their anniversary show week, they wondered how many takers there would be for a high-stakes bet in which someone could take home $20 million if he or she could sink a halfcourt basketball shot within 10 attempts. If they took the collar, they would have to go to jail for two years.
Sans underwriter and in the spirit of the March Madness and stupid wagers with ridiculous consequences, they modified the bet: the winner would pocket a $20, the loser would be relegated to the corner for a two-minute time-out.
After Golic drew back iron on his first running two-hand push, Greeny's baseball throw found nothing but net. Golic came close with a couple of other tries, before finally bottoming it on his 10th try. Talk about bragging-rights clutch.
Future fare. As the interviews ended, the question turned to what's ahead. What anniversary might the two share some day down the road?
"Another 15 is unlikely," Greenberg declared. "Beyond that, I don't have a number in mind. I love the job, but if ESPN said it was done, that would be terrific, too. I'm proud of what we've done."
Golic also refrained from playing prognosticator.
"I don't know. We have a couple of years left on the deal. A lot of it depends on ESPN. At the end of my football career when I got cut by Miami Dolphins, I still wanted to play, but none of the other teams were calling."
When the show concludes, though, he already has his "spot picked out in Arizona. I might return to [analyzing] college football, I really enjoyed that…We are getting older. I see some of the photos and we look so young. But the show helps keep us that way."
*CC Sabathia and Tim Hudson
The smarter way to stay on top of the multichannel video marketplace. Sign up below.
Thank you for signing up to Multichannel News. You will receive a verification email shortly.
There was a problem. Please refresh the page and try again.