Multichannel Planner | Week of Feb. 6, 2017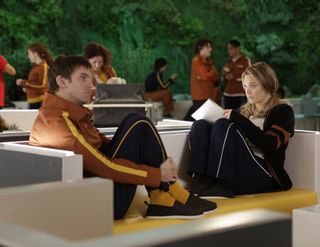 Now that the pro football season is over -- and congrats to the Super Bowl LI winner -- these are some circled dates on the calendars of Multichannel Newseditors the week of Feb. 6.
The Wednesday (Feb. 8) premiere of FX's thriller Legion(pictured) leads the list of scripted series debuts this week, including Comedy Central's Detroiters and Bravo's drama series Imposters, both bowing on Tuesday (Feb. 7). Amazon will launch its French-U.K. period drama series The Collection on Friday (Feb. 10).
Black-ish star Anthony Anderson's new Animal Planet talk show, Animal Nation With Anthony Anderson, also premieres Friday.
High-profile series returning this week include cable's most watched series, AMC's The Walking Dead, on Sunday (Feb. 12). Also that evening, the HBO comedy Girls will commence its final season and Starz drama anthology series The Missing returns with a new storyline and different characters from season one.
Tonight (Feb. 6), National Geographic Channel teams up with Katie Couric for a two-hour special, Gender Revolution: A Journey With Katie Couric, and singer Michael Bolton hosts the Tuesday premiere of his Netflix show, Michael Bolton's Big Sexy Valentine's Day Special, with guest appearances by Fred Armisen, Maya Rudolph and Sarah Silverman.
— R. Thomas Umstead|Follow @rtumstead on Twitter
TECH ON THE TOWN
Some of the industry's top engineers and tech execs are gathering this week (through Feb. 8) in Orlando, Fla., for the annual CableLabs Winter Conference, where the cable R&D house has set up an event that will run on three tracks: technology, strategy and innovation, and policy. These annual CableLabs events are off-limits to the press, but a draft agenda acquired by Multichannel News provides a sense of the specific topics that will covered and who will be on hand to share their insights.
Per that document, MoffettNathenson's Craig Moffett will offer a broad overview and analysis of industry trends, and Michael Powell, CEO of NCTA: The Internet & Television Association, is expected to overview policy-related issues of note to the cable industry.
Individual sessions on the slate include ones dedicated to the all-IP migration; enterprise technologies used to power services being delivered to business customers; issues tied to the "Darknet" (overlays of the Internet that enable anonymous and private connectivity); applied machine learning; the use of wireless in unlicensed and shared spectrum; the Internet of Things; and new distributed access architectures.
CableLabs will also host a high-level roundtable that, at last check, featured Comcast's Tony Werner, Altice USA's Terry Cordova and Charter Communications's Jim Blackley.
CableLabs will also hold its Innovation Showcase. Vancouver-based startup mimik Technology took top honors last year, recognized for its personal media cloud technologies.
— Jeff Baumgartner|Follow @thebauminator on Twitter
IN D.C.
On Tuesday (Feb. 7), the Multicultural Media, Telecom and Internet Council (MMTC) holds its eighth annual Broadband and Social Justice Summit. Among the current and former FCC heavyweights scheduled to participate are former chairs Mignon Clyburn (a current commissioner), Michael Copps and Dick Wiley; current chair Ajit Pai; current commissioner Michael O'Rielly; and former commissioner and MMTC board vice chair Deborah Taylor Tate. Legislators include Reps. Tony Cárdenas (D-Calif.); Yvette Clarke (D-N.Y.); and A. Donald McEachin and Bobby Scott (both D-Va.).
The Inspector General for the Commerce Department, which oversees government spectrum, is a scheduled witness Wednesday (Feb. 8) at a Senate Commerce Committee hearing on improving federal agencies. Also that day, Rep. Greg Walden (R-Ore.), the new chairman of the House Energy & Commerce Committee, will outline his legislative agenda at a Capitol Hill "pen and pan" press conference with the media press corps.
— John Eggerton|Follow @eggerton on Twitter
The smarter way to stay on top of the multichannel video marketplace. Sign up below.
Thank you for signing up to Multichannel News. You will receive a verification email shortly.
There was a problem. Please refresh the page and try again.