What National Geographic Wants You to Know About 'Gender Revolution: A Journey With Katie Couric'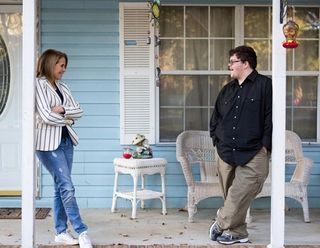 National Geographic's two-hour documentary, Gender Revolution: A Journey With Katie Couric, premieres Monday (Feb. 6) amid a very passionate, national conversation revolving around gender identity. The documentary, hosted by the former NBC Today and CBS Evening News anchor, will approach the topic of gender through the lens of science, society and culture, according to network officials.
Nat Geo, which devoted the January National Geographic Magazine issue to the topic of gender, will continue the conversation immediately following the documentary with a Couric-hosted Facebook Live town hall, according to network officials.
I recently spoke to National Geographic Global Networks CEO Courteney Monroe about the documentary and what message Nat Geo wants to relay through the documentary about the very emotionally-charged issue.
Here's what Monroe and National Geographic want you to know about Gender Revolution: A Journey With Katie Couric.
The documentary looks to open dialogue about gender identity: The story of gender is really playing out all around us. More and more there are celebrities who are shining a light on the subject. But beyond that, our children, our parents, our teachers, our medical professionals and yes, even our elected officials are increasingly confronting an array of issues that really have gender at the center. Our aim with this film is really to promote understanding and acceptance, and to open up people's hearts and minds to something that is all around us. It's something that a lot of people don't understand, and when people don't understand things they tend to be less tolerant, but when people are understanding of things they tend to be more accepting. So that's really the goal of the documentary.
Katie Couric examines gender from all angles: Katie is really the extraordinarily right person to tackle this because she's really inspiring, and the documentary is really emotional and eye-opening thanks to Katie. She speaks to over 60 people for the show and tackles a whole range of questions: What is gender? What determines gender? What is the biology behind gender? What about people who don't consider themselves men or women? What if gender roles were rejected entirely? Also, she looks at the question of how one's anatomy can be different from their gender identity, which is something I think many people don't understand. Those are just some of the many questions that the documentary tackles. As a viewer you go on this journey with Katie as she learns more about this topic. She asks for you all the questions that you have sitting on your couch in a really considerate and compassionate way.
Nat Geo is not worried about potenitally negative feedback: We include a lot of the biology of gender, and there are medical professionals who are interviewed to really help people understand how science plays a role in gender identity -- that's a very National Geographic way to approach the topic in a really compelling way. But it's also wrapped in people's personal stories. National Geographic has never been an organization that shies away from controversy, and we're telling the stories that we think are the most important stories to tell. With that there will be debate and dialogue, and that's just fine in our book.
The smarter way to stay on top of the multichannel video marketplace. Sign up below.
Thank you for signing up to Multichannel News. You will receive a verification email shortly.
There was a problem. Please refresh the page and try again.