Multichannel Planner -- Nov. 21-Dec. 7, 2016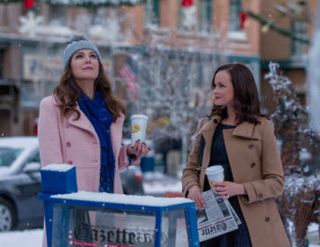 Headed into Thanksgiving week, here's a peek at what's on our editors' upcoming calendars. MCN will not publish on Nov. 28, returning on Dec. 5.
Return of 'Gilmore Girls'
On the new-series front, TBS will air all 10 episodes of scripted comedy series Search Party this week, beginning today (Nov. 21), with two episodes airing nightly through Friday. Syfy on Nov. 30 will debut its new drama Incorporated.
Original movies slated for the Thanksgiving holiday include the Nov. 21 debut of HBO's Marathon: The Patriots' Day Bombing, about the 2013 Boston Marathon terrorist attack. Netflix on Friday (Nov. 25) resurrects Gilmore Girls (pictured) with four, 90-minute movies featuring most of the cast from the series.
Specials surrounding the 75th anniversary of the Pearl Harbor bombing include History's Dec. 3 Pearl Harbor: 75 Years Later and Dec. 4's Pearl Harbor: The Truth. Also on Dec. 4, Smithsonian Channel debuts The Lost Tapes: Pearl Harbor, with never-before-seen video and audio from the attack.
— R. Thomas Umstead|Follow @rtumstead on Twitter
From the 'Swamp'
Dec. 7 should be a big day for the AT&T-Time Warner merger on Capitol Hill as the lame-duck Senate checks to see if the deal is all it's quacked up to be. That's the day Judiciary Committee chairman Charles Grassley (R-Iowa) has scheduled an oversight hearing. It actually isn't on the Judiciary calendar, but hearings aren't generally noticed until two weeks beforehand — and hearing dates are not usually announced as early as Grassley did the AT&T-TW hearing. That may have been an effort to get out in front of the Commerce Committee, which shares jurisdiction over communications issues.
The Free State Foundation has corralled a Republican powerhouse lineup for its 10th Anniversary Luncheon, also Dec. 7, at the National Press Club in Washington. Those include likely interim FCC chair and current commissioner Ajit Pai and Rep. Marsha Blackburn of Tennessee, who is on the Trump transition team executive committee helping the president-elect pick top posts – including interim and permanent FCC chair, which Pai is also likely in line for.
— John Eggerton|Follow @eggerton on Twitter
DirecTV Now Launch
AT&T has been meting out details about DirecTV Now in recent weeks, but all will be revealed on Nov. 28, during an invitation-only presser in New York that will "celebrate the launch" of the new OTT TV service. In addition to DirecTV Now product demos, AT&T will also reveal other details about the service, including the channel lineup and when it will become available to the masses. Related [subscription required]:DirecTV Now Brings Uncertain Future
— Jeff Baumgartner|Follow @thebauminator on Twitter
The smarter way to stay on top of the multichannel video marketplace. Sign up below.
Thank you for signing up to Multichannel News. You will receive a verification email shortly.
There was a problem. Please refresh the page and try again.