The Mouse Meets Android TV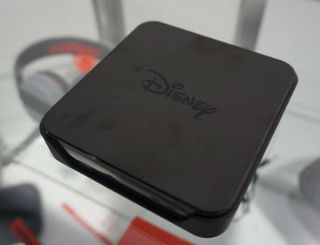 Reports from last week's CES that Disney is on the verge of selling a Disney-branded streaming device with exclusive content and powered by a modified version of Android TV are not accurate, I'm told by a rep from the company that was demonstrating a mocked-up device at the gadget-fest.
The representative stressed that SnakeByte does not currently hold a license from Disney, and that reports about Disney's plans involving the device are inaccurate, as the box that was being shown at CES was "a speculative prototype that was mocked-up by SnakeByte for CES, for exploratory discussions about acquiring a license from Disney for some EMEA territories."
Additionally, the prototype shown at CES also was "not reflective" of SnakeByte's early stages discussions with Disney, and did not include any plans to release a Disney-branded box. Those talks, the company said, were focused only on licensing Disney-owned franchises and characters.
"It is premature to report anything further about the nature of the relationship or product at this time," the official added.
Tom's Guidegot a look at the SnakeByte-built prototype at last week's CES, and reported that Disney was also looking to build thematic versions of it based on properties like Frozen and sell it later this year for $99.
IGN also filed a report on it from the show along with a video, holding that the device would come pre-packed with Disney movies and TV shows, will support an optional controller that costs an extra $39, and tie in USB ports for local media, along with expandable storage.
Apparently, those outlets were fed some bad info. Still, the whole concept is sorta interesting given that the OTT device market is already pretty crowded (Roku, Fire TV, Apple TV and other Android TV-based products), and that a Disney-branded, kid-friendly device like this might have a shot at carving out a slice of the action.
Image source: Tom's Guide
The smarter way to stay on top of the multichannel video marketplace. Sign up below.