More Signs Of 'Android TV'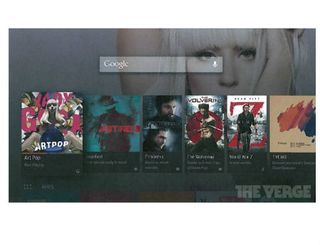 In another indication that Google is nearing the launch of Android TV, the successor to the much-maligned Google TV platform, The Verge posted a series of screen grabs and data from documentation tied to the new platform.
"Android TV is an entertainment interface, not a computing platform," Google said, according to The Verge, noting that the platform will feature voice input and recommendations. "It's all about finding and enjoying content with the least amount of friction."
That sounds a bit like the goals of the Amazon Fire TV box, which was launched last week and uses a "forked" version of Android. I got mine last week and fired it up over the weekend. The set-up was smooth, the interface was fast, the access to Amazon's own video vaults was seamless, the HD video streams were eye-popping, and the voice-activated search capability has been working as advertised. If I had a complaint early on, I'd like it to support a much broader menu of apps. My Roku box still blows it away from that respect.
But back to Android TV. The documents presented by The Verge, which follow Android TV's unofficial debut at International CES in January, show that the Android TV revamp certainly looks a lot better than Google TV (the bar wasn't all that high, of course). And it appears to be supporting the apps you'd expect it to – Vevo, Hulu, Netflix, Pandora, YouTube, plus everything from Google Play.
And there's no mention of a live TV component or if it will support pay-TV via HDMI-pass through – a capability that aioTV has been touting in the Android-powered PassBox that it's pitching to cable operators.
Success of Android TV will come down to content and price, how it's rolled out (via separate boxes or direct TV integrations, and if the company can overcome the stigma left by the earlier Google TV efforts, but it looks like Android TV is poised to target an already crowded market of sub-$100 streamers – in addition to Amazon's new entry, we've got Apple TV, Roku's lineup, and even the hot-selling Google Chromecast. How will that fit in? Will it fragment the market further, or simply give Google a nice, cheap option for the impulse buyer?
The smarter way to stay on top of the multichannel video marketplace. Sign up below.