Modest Cable Local Ad Revenue Growth: BIA/Kelsey 5-Year Forecast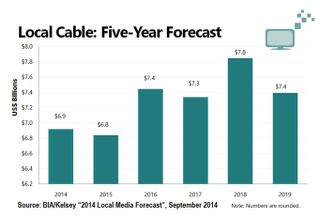 Cable's share of local video ad spending will drop from 22% this year to 18% by 2019, akin to the decline that local broadcast TV channels face as their ad revenue share falls from 64% to 58% during the same period, according to the new "U.S. Local Media Forecast 2015" that research firm BIA/Kelsey  unveiled this week. Local online video advertising will attract most of the diverted ad spending, with its share growing from 9.6% this year to 18.7% in 2019, according to the analysis.
Local cable advertising, which BIA/K pegs at $6.9 billion this year, will drop slightly in 2015 and then teeter upwards for a few years, settling at $7.4 billion in 2019.  [See chart.]
Throughout the media world, the next few years will see a "steady shift toward digital media," the BIA/K report concludes.  Today's ad spending split between "traditional" media (77%) and digital media" (23%) will migrate to a 65%/35% split by decade's end.
"We expect the pace of growth in the overall local advertising marketplace to moderate through 2019, resulting in a 3% compound annual growth rate," said Mark Fratrik, chief economist at BIA/Kelsey. The standout will be the online/digital advertising sector.  Fratrik expects revenues in that category to see a 12.2% CAGR through 2019, compared with essentially flat revenues for traditional advertising (-0.5% CAGR) during the same period.
Reflecting current changes in advertising economics, BIA/Kelsey has lowered its overall local ad spending forecast for 2014 (including all media) to $137 billion, down from its original $138 billion forecast.  The company expects "a slight increase" to $139.3 billion next year, "reflecting a slightly stronger U.S. economy."
Online/digital will account for more 25.2% of total local media revenues in 2015, BIA/K's study predicts. "Mobile local" and "local social" (including "search") will lead the growth in this sector.  BIA/Kelsey foresees:     
Mobile local ad revenues will grow from $4.3 billion in 2014 to $6.6 billion in 2015
Local social media revenues will grow from $2.5 billion in 2014 to $3.6 billion in 2015.  
Local search revenues will grow from $7.1 billion in 2014 to $7.2 billion in 2015
Local display revenues will grow from $4.3 billion in 2014 to $4.9 billion in 2015
Local online video revenues will grow from $2.3 billion in 2014 to $3.0 billion in 2015
BIA/Kelsey released its forecasts during its "Leading in Local" conference in New Orleans this week.
The smarter way to stay on top of the multichannel video marketplace. Sign up below.
Thank you for signing up to Multichannel News. You will receive a verification email shortly.
There was a problem. Please refresh the page and try again.