MobiTV's Streaming Stick Pops Up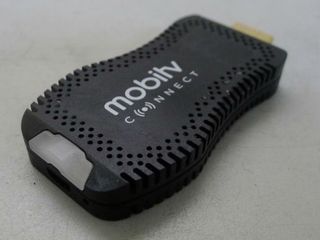 Hat tip to tech blogger Dave Zatz for spotting the coming MobiTV "Connect" HDMI streaming stick as it passed through the FCC for testing. Far as I can tell, this is the first time the device's form factor has popped up in some public documentation. Previously, MobiTV has been sharing a doodle representation of its new doodad.
As Zatz points out, the version that made its way through the Commission looks more like a Google Chromecast than Roku Streaming Stick or the Amazon Fire TV Stick, which started shipping last week.
Among the documents posted at the FCC, there's some internal and external views of the MobiTV Connect, as well as a user's manual that shows some set-up screens for how to pair the streaming stick to an iOS- or Android-powered device.
What the documents don't spell out is how MobiTV's U.S. mobile service partners (AT&T, Sprint, US Cellular and Verizon Wireless are among the possibilities) will use the white-label Connect device to deliver video to the living room.
In a recent interview, MobiTV execs told Multichannel News (subscription required) that the Connect will debut sometime in the first half of 2015, with an expectation that partners will use the device in tandem with MobiTV's platform to deliver a curated array of live TV channels, as well as on-demand video, music and games. That makes it sound like the device could end up fueling a new set of so-called "virtual" MVPD offerings that could be delivered over-the-top.
MobiTV has also lined up some partners to get the device built and distributed. Jabil Circuit is making the Connect device, while Amlogic is supplying silicon that provides the chipset-layer security integration needed to get HD video to the big screen. Brightstar, a logistics and supply chain company that's a subsidiary of Sprint parent Softbank, has signed on to help MobiTV get the device into the wireless retail and consumer distribution machine.
The smarter way to stay on top of the multichannel video marketplace. Sign up below.