Meet Cisco's 'Battlestar'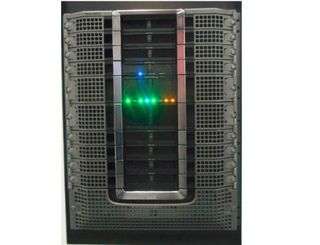 Los Angeles – Cisco Systems has been showing off the cBR-8, its next-gen cable access platform, in the so-called "whisper suite" at recent trade events, but used this week's Cable Show here to put it out for all to see.
The cBR-8 will serve as the new cable access flagship for Cisco, succeeding the uBR10012 cable modem termination systems. In addition to offering a high-density CMTS, the cBR-8 will also be a fully integrated Converged Cable Access Platform (CCAP), meaning it will also contain edge QAM functions and essentially put all of cable's services under one roof.
And it turns out that the product, which has been in development for years, has an interesting code-naming lore that sci-fi geeks will certainly love.
As John Chapman, CTO of Cisco's Cable Access Business Unit, pointed out, he and two other Cisco engineers are big fans of the reimagined version of Syfy's Battlestar Galactica, so they decided to use names and monikders from the popular series for the major components of the cBR-8.
For starters, the product itself was code-named "Battlestar," since this was to become the new flagship, and the CCAP device that would be used to defend Cisco's turf against rivals such as Arris and Casa Systems, as well as CCAP newcomers that include Harmonic, CommScope, Gainspeed, a startup that is teaming up with Juniper Networks.
Chapman said the cBR-8 blades were designated as "Cylons," a reference to the series' iconic cybernetic characters. We never quite pinpointed which component took on the "Athena" name, but Chapman said that plus several others were used to complete the Battlestar Galactica thematic ensemble.
So, who says cable engineers, who came up with archaic techno-labels like the Data Over Cable Service Interface Specification and the Downstream External PHY Interface Specification, don't have something creative to offer the marketing folks?
Here at the show, Cisco showed off the cBR-8 in DOCSIS 3.0 mode, bonding 32 downstream channels and eight upstream channels. But it's also got DOCSIS 3.1 in its sights.
As Joe Cozzolino, Cisco's SVP and GM of the vendor's Service Provider Video Infrastructure group, told me for this feature story on cable's next-gen data platform, the cBR-8 will be DOCSIS 3.1-ready "at the line-card level" when the product is launched in the first quarter of 2015.
During a briefing here this week, Cozzolino noted that the cBR-8 is in labs with five customers now, expanding to ten by this summer.
The smarter way to stay on top of the multichannel video marketplace. Sign up below.
Thank you for signing up to Multichannel News. You will receive a verification email shortly.
There was a problem. Please refresh the page and try again.