March Madness a Boon for Cable Advertising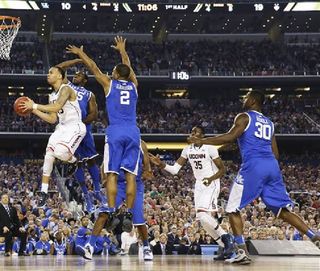 As an avid fan and one-time baller, I have always been a big time fan about March Madness ever since watching games on cable in the late 1970s. And now that I am in the local cable advertising business, I am more excited than ever in light of the power that cable provides local businesses to play on the big stage.
Over the next three weeks, beginning with "Selection Sunday" on March 15, millions of Americans from coast-to-coast will be consumed with the NCAA Men's Basketball Division 1 Championship – better known as "March Madness."
Everyone from President Obama to kids in middle school will fill out their brackets. Experts and fans alike will take turns predicting which teams will receive "at-large" bids to the tournament, and then calculate the odds of 68 participating college teams advancing from one round to the next. It's a three-week gauntlet that raises the national fever with each successive round, and for those unable to attend the games in person, there will be plenty of action on cable as Turner Sports will telecast well over 40 games on TBS, TNT and TruTV.
From a cable advertiser's perspective, there is obviously a lot to also look forward to about March Madness and it can be a boon for businesses of all sizes seeking to reach a very large and highly engaged audience. Last year, for example, TBS aired the "Final Four" games and the average U.S. household ratings were particularly strong with a 6.45 (Kentucky Wildcats vs. Wisconsin Badgers) and 5.05 (Connecticut Huskies vs. Florida Gators). And of course those national averages paled in comparison to the ratings in local markets within the home states of the participating teams. In the Wildcats-Badgers game for example, six of the seven highest local ratings were from – you guessed it – Kentucky and Wisconsin.
Importantly, March Madness is also a critical opportunity to target hard-to-reach male viewers who are – on average – lighter television viewers. Moreover, research indicates there is a direct correlation between rating size (which increases markedly as the tournament advances) and the household income of viewers enabling advertisers to reach a more affluent audience as well.
Local cable advertisers have not overlooked this reality in years past and we expect this year will be no different. Last year, across 49 tournament games within just 10 event dates, 570-plus Viamedia clients, alone, ran nearly 29,000 30-second local cable spots. To put that number into perspective, that comes down to every single advertiser running an average of one spot on each and every game. Notably, 2014 also marked the first time TBS aired the Final Four games which no doubt contributed to the 75 percent of Viamedia markets across the country that markedly increased their March ad investments above the 2013 levels.
Of course, big-time sports on cable television also attract significant investments from the automotive industry and March Madness is no exception. In fact, 31 of the top 50 advertisers in 2014 were either auto manufacturers or auto dealerships. In total, over 50 percent of all local cable advertising during March Madness was from the automotive industry, with the next five largest categories representing a little more than one-quarter.
In the weeks ahead, its March Madness for many Americans, but especially for the cable advertising industry and at Viamedia we have more than just a pecuniary interest. Our headquarters in Lexington, Kentucky is just a stones' throw away from the University of Kentucky and after the Wildcats lost a heart-breaker to Connecticut (pictured) last year, the many UK alums at our company are gearing up for the weeks ahead. And so will millions of college basketball fans get their fill of college basketball on TBS, TNT and TruTV, while America's advertisers invest to help reach their desired audience and drive more consumers to buy their good and services.
So enjoy the Madness and, dare I say, go Blue!
Mark Lieberman is president and CEO of Viamedia, the nation's leading independent provider of outsourced local television advertising services.
The smarter way to stay on top of the multichannel video marketplace. Sign up below.
Thank you for signing up to Multichannel News. You will receive a verification email shortly.
There was a problem. Please refresh the page and try again.