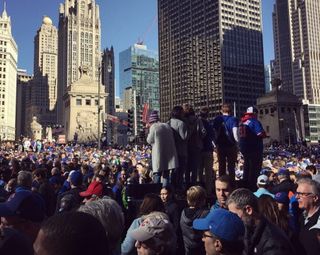 It was the best of times and the worst of times for Major League Baseball. The Chicago Cubs won the World Series after a 108-year absence, the Cleveland Indians almost won the World Series after a 68-year drought and Fox reversed their long-standing ratings decline for the Fall Classic… AND, got a Game 7 for the ages! Further, in a testament to the influence and social impact team sports can have, a reported 5 million people came out for the victory parade through the streets of Chicago land. The best of times for Cubs fans, no doubt.
But on the morning of Game 7, the worst of times were represented when the Department of Justice filed a civil antitrust action against DirecTV Group Holdings LLC and AT&T for violating Section 1 of the Sherman Act. The complaint states that DirecTV colluded with other Southern California MVPDs against distributing the Dodgers Channel since its inception. Amidst a myriad of intricate details and testimony, the DOJ complaint paid little attention to the fact Time Warner Cable guaranteed the Dodgers a big increase in rights fees, shattering MLB's RSN economics like a fastball does a poorly milled bat. Or that the impasse has protected existing subscribers from an additional $3+ dollar per month on their So Cal bills.
My guess is there are some Cable Hall of Fame MVPD programming execs that understand and, in some private manner, appreciate the extraordinary commitment it takes to withstand sports network carriage battles. And while the inside baseball on the DOJ action is likely a brush back pitch for the pending AT&T-Time Warner merger approval process, they may want to take the time to look at the good 'ole expanded basic bundle and run some quick numbers on the level of sports expense included in such.
It would also appear that the postgame fireworks are just getting started. Adding to this hardball madness: it's been long rumored that the Cubs' owners want their own RSN. Early this year, TheChicago Tribune's Mark Gonzales even penned an article headlined "New TV arrangement at forefront of Cubs' business decisions."Mr. Gonzales's piece didn't make any mention of the current standoff between Comcast and YES Network, which has now entered year two and has benched Yankees (and New Jersey Nets) games for nearly 1 million Comcast subscribers in the New York and Hartford DMAs. Likewise, nothing about the extra innings distribution marathon the Baltimore Orioles encountered launching MASN, or any mention of failed MLB team owned RSNs in Houston and Minnesota. No indeed, it's all good in Wrigleyville, to the victor go the spoils and bring on Bill Murray and CubbyTV!
The longstanding debate over where pro sports teams and their RSNs belong in the MVPD packaging scheme will not be settled anytime soon. Looking back at the carriage history of pro sports, the original concept of offering professional team games via RSNs was created by Mr. Charles Dolan and his Cablevision Sports 3 in 1976, followed shortly thereafter by MSG Network in 1977. Originally, Mr. Dolan offered these as "mini pay services" at a price above that of the entry-level packages. The concept of moving RSNs to the larger and more heavily penetrated basic tiers first surfaced south of the nation's capital in the outer markets that carried Home Team Sports. Recounting those days with veteran distribution exec Jim Bates, he explained the move to expanded basic as more a function of convenience for the cable operators in and around Norfolk, Va., who didn't have the marketing muscle to drive them as pay services, and saw the reasonable license fee as an appropriate tradeoff.
As the 90s rolled around, the idea that there was larger ad sales success to pursue for the RSNs gave way to negotiations for pay to basic re-positioning, and the game was on. Couple that with the strategic consolidation of the RSNs by SportsChannel and then Fox Sports Net, add in Fox's David Hill's proclamation that "sports are tribal," then finish it off with the sales pitch that RSNs were higher rated than ESPN and, well, ESPN is in expanded basic. Game set and match! Wait a minute, that's a tennis term. How about "a walk off homer" for the RSNs? Much better.
But enough about the badness of protracted and painful baseball/RSN distribution strikeouts as this will inevitably play out and probably cure itself with the shift in purchasing trends currently disrupting Pay TV. Let's end on a high note for our nation's pastime. There is a youth movement in baseball with 15 players under the age of 25 playing in the world series, Bob Bowman and his MLB Advanced Media team have created the best of the U.S. pro leagues' digital platforms, and commissioner Rob Manfred is a forward thinking leader who is looking to shorten games through various rules innovations.
People watch winners, and having 5 million Cubs show up for a victory parade may be a strong pitch for placing yet another RSN on expanded basic. If only the Cubs could win it every year!
(Chicago Cubs' victory parade photo by Ryan Dickey on Flickr.com)
Matt Cacciato is an Adjunct Professor in Ohio University's No. 1-ranked Sports Management Program and founder of American Education Television. Prior to that, he spent 20 years negotiating affiliate distribution agreements for YES Network, Fox Sports Net's L.A., Arizona and Washington state RSNs, ESPN (including the company's only RSN effort, ESPN West) and SportsChannel NY.
The smarter way to stay on top of the multichannel video marketplace. Sign up below.