Lynch: Sling TV Will Continue to Steer Clear of Big Bundles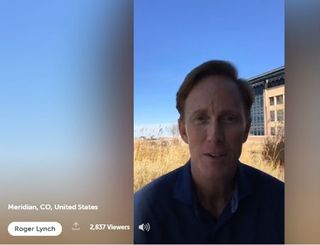 With DirecTV Now about to hit the market with a 100-plus channel package starting at $35 per month, the obvious question to Sling TV is how the Dish-owned OTT-TV service will respond.
The short answer: Keep doing what it's been doing.
RELATED: DirecTV Now to Cost $35 Per Month
"Our strategy was never to create that big bundle of channels," Roger Lynch, Sling TV's CEO, said Wednesday in a Q&A that was live-streamed on Twitter's Periscope platform. "We think that's a market that's well-served by competitors like DirecTV or Comcast or even our parent company, Dish Network. Our strategy was to create choice for consumers."
So, don't expect Sling TV to move very far off its current core "Orange" and "Blue" packages that sell for $20 and $25 per month, respectively, each (or $40 for both), plus several add-on packages.
"We're not about providing you with 100 channels. We're about providing you with flexibility and customization," Lynch said.
Lynch declined to announce Sling TV sub numbers (the service), but did tout a new Parks Associates study that found that Sling TV had jumped to number six among all subscription OTT services in the U.S., up from the No. 10 spot last year.
RELATED: Sling TV, Showtime, CBS All Access Gain OTT Ground
"We are really at the transition point of our industry," Lynch said earlier in the stream, noting that the consumer model is moving toward more control and self-aggregation and that many of the services on the Parks study is complementary to Sling TV. "They might take Netflix and Sling and Hulu or Crunchyroll...depending on their interests."
"Our objective was never to be the one service that meets all the viewing needs of any individual. We just don't' think that model's viable anymore," he said. "The viable model is to be an important piece of a puzzle that people put together for their own streaming services. "
Here's a sampling of other topics and questions posed to Lynch during the live-streamed Q&A:
-Will Sling TV add a DVR capability? Nothing to announce yet, but, "We and our engineering teams are always working to add new functionality….We've got new stuff coming soon."
-Will Sling TV add a traditional grid guide? Sling TV initially targeted cord-cutters and a younger demo that's used to navigating content via a "different paradigm," he said. But Sling TV is seeing more consumers coming over from traditional pay TV. "I think you'll see us adapt our new user interface to be more comfortable for …people who came from a traditional pay TV service."
-On account sharing: "I think sharing is just an inevitable part of this industry," Lynch said, noting that traditional pay TV providers are arguably more exposed to it because of consumers sharing their TV Everywhere credentials. Sling TV doesn't encourage the practice, he said. "We don't think it happens that much, but we're also not blind to the fact that it does happen."
-On broadband caps and usage based billing: "I think those are anti-competitive behaviors," Lynch said. "It's something that hopefully the regulators will get focused on."
He also said it's "unlikely" that Sling TV will someday offer ABC, NBC and Fox live locals on a single $20 package. Though consumers can get those signals for free with an antenna, he noted that live locals are among the most expensive for a pay TV operator to carry. Sling TV Blue has live locals from NBC and Fox in select markets. Sling TV subs, in select O&O markets, can also get ABC via the service's $5 per month Broadcast Extra add-on package.
The smarter way to stay on top of the multichannel video marketplace. Sign up below.
Thank you for signing up to Multichannel News. You will receive a verification email shortly.
There was a problem. Please refresh the page and try again.