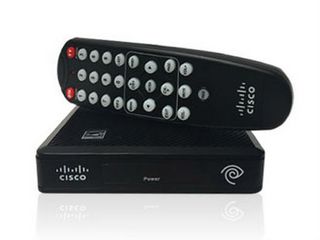 As you might have noticed, our annual CTO roundtable in this week's issue of Multichannel News (subscription required) covered a lot of ground as engineers and execs head to Philadelphia for this week's SCTE/ISBE Cable-Tec Expo. We discussed next-gen WiFi strategies, DOCSIS 3.1 rollout initiatives, remote PHY architectures, virtualization and even a bit about what kind of impact MSOs should expect as 4K and High Dynamic Range enter the video picture.
Get complete coverage of Cable-Tec Expo 2016
And, because there was only so much room to work with, some of our discussion didn't get covered there, so I'm using this space to include a brief passage on an oldie-but-goody question we posed to our esteemed panel: When will your available digital capacity be "all IP?"
That's a tricky one for even the best crystal balls. After all, there are still millions of QAM/MPEG transport-only boxes choking the network, including a bunch of Digital Transport Adapters (that's a Cisco-made DTA pictured above), and operators are far from united in how they will push ahead with these migrations. Comcast is eyeing an all-IP future as it accelerates the rollout of X1, while Charter Communications shoots for a different strategy in which it can deliver a next-gen UI to IP-capable and QAM-locked boxes using the ActiveVideo's platform now jointly owned by Charter and Arris.
While it's probably impossible to know exactly when cable video will go all IP and join its broadband and voice brethren, our esteemed panelists were at least willing to noodle on it a bit.
"From a video standpoint, we're in position to enable that," Kevin Hart, EVP and CTO of Cox, said. "The conversion from the QAM video distribution to only all-IP is still, I think, many years out into the future for most of us. It's going to take time, just based on CPE and everything else. We're in a good position to deliver all-IP, but it's going to take time, particularly on the QAM video infrastructure."
Balan Nair, CTO and EVP of Liberty Global, had a more targeted answer, though one with seemingly plenty of runway: "Umm. 2025? Sure – 2025."
To be continued...
The smarter way to stay on top of the multichannel video marketplace. Sign up below.
Thank you for signing up to Multichannel News. You will receive a verification email shortly.
There was a problem. Please refresh the page and try again.