Live From MSG, It's NBA All-Star Sunday Night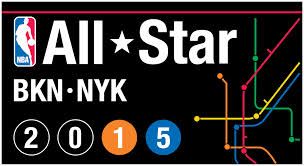 For the 23 million who were engaged with NBC's Saturday Night Live 40th Anniversary Special, there was another pretty good live event in New York on Sunday night.
Those lucky enough to be inside the transformed Madison Square Garden or watching the TNT/TBS simulcast of the 64th NBA All-Star witnessed some sweet moves (and a few lowlights) in the highest-scoring contest in the event's history.
The ASG in NYC --the West prevailed 163-158 -- began with the tip between the Brothers Gasol, with Pau winning on a double hit. The big men for Spain were largely lost in the run-and-gun affair, although Marc did catch LeBron James's attention with a crushing blow on a corner three point attempt.
The King didn't take kindly to the body block, expressing his royal displeasure by later attempting an inbound decapitation with a pass off the back of Mark's noggin.
LeBron loathers also had other reasons to revel. The Earl of Akron smacked an underhand alley-oop set-up from John Wall off the back rim and gave new meaning to the phrase wide left, when he missed the backboard on what appeared to be a self-pass a la Tracey McGrady.
To be fair, LBJ notched 30, including a reverse alley-oop slam(Zack LaVine, anyone?) to pass Kareem and Michael Jordan and become the second All-Star scorer behind Kobe. The absent Laker still leads by two.
Carmelo Anthony's single ASG mark of 8 treys from last year withstood challenges by Kyle "Ashton Kutcher" Korver and James "The Beard" Harden, both of whom connected on seven from downtown.
The hometown representative clanged it around like much of the Knicks' abysmal season. Melo's futility included a pair of three-point misses on the East's final possession -- he closed matters with 6 of 20 from the floor, before likely moving on to the operating table.
Russell Westbrook, perhaps the NBA's most athletic player, had 25 with 7 minutes to go in the second quarter. His full-game repertoire featured a quintet of threes, a number of rim-rocking dunks, and by his own admission four or five missed layups. Had he connected on one of those, the game's MVP would have dunked Wilt Chamberlain's 42-point ASG record. That mark has stood since The Dipper's incredible (50.4 points-per-game, 100-point-game outburst) 1962 season.
Sunday night's most entertaining player, though, was Saturday night's three-point champ, Steph Curry. While he disappointed in the horrendous Game Changer contest against John Wall during the team's practices early that afternoon, Curry's handle was in full flow, as he set up teams with an array of between the legs, around the back and alley-oop passes. (Dallas' Dirk Novitizki got caught up in the moment, reaching into the past for a two-hand flush and then struck a vince Carter pose.)
But the highlight of the night from this perch on media row was Curry's double behind the back dribble that led to an elongated one-hand scoop shot off the floor that evaded Al Horford's reach and touched just below the top of the board before settling into the cylinder -- a Rafterian kiss the night after Valentine's.
There was plenty of entertainment off the court as well. Cast members from Broadway's "Jersey Boys," "Mama Mia" and "Chicago" did their things, flouting short medleys as nationwide tourism plugs.
An attempted "New York, New York" crowd sing-along went largely silent – wrong building, wrong borough.
Steve Schirripa engaged Curry, fellow "splash brother" Klay Thompson and Atlanta's center Horford in "Wiseguy Vocabulary" on the giant scoreboard. Pau easily turned in the best "fuhgettaboutit" of the bunch.
There was also an inflatable mascot cotillion. Harry the Hawks and Hugo The Hornet were in perfect lockstep during Michael Bolton's "How Am I Supposed to Live Without You?"
As for celebrity row sightings, Bill Clinton received the biggest hand, although the former President and the Secret Service detail should have wagged their fingers to shoo Dikembe Mutumbo from blocking their views.
There were the usual suspects: Ben Stiller and wife Christine Taylor, Jay-Z and Bey, who usually sit first row at Barclays, and Spike Lee in a ridiculous get-up.
Rihanna sat to the right of the director, while Time Warner CEO Jeff Bewkes also had front row game -- authorizing billions of dollars in rights checks has its privileges.
On court, five of the game's greats gathered: Magic, Doc, Kareem, The Big O and Russ.
For their part, Knicks trotted out six: BKing, Dollar Bill, Phil Jackson, The Pearl, Clyde in a cowskin suit and The Captain. One didn't deserve action there.
Given the state of the Lakers and his various injuries, the 2015 All-Star Game could mark Kobe's last major hurrah. There won't be any Olympics like in 2014 and presumably NBC won't be serving up a 41st anniversary of Saturday Night Live special to steal viewers. However, AMC's The Walking Dead will be still be stalking and there certainly won't be any home-court Nielsen advantage from Toronto.
Still, the phrase Live from Toronto may have a nicer Nielsen ring to it than the 7.2 million who tuned in the TNT/TBS simulcast from New York.
The smarter way to stay on top of the multichannel video marketplace. Sign up below.
Thank you for signing up to Multichannel News. You will receive a verification email shortly.
There was a problem. Please refresh the page and try again.