Learning How to Lead at SCTE-Tuck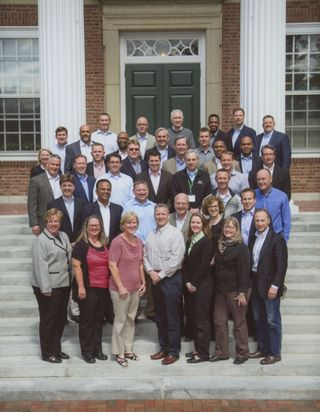 For a newcomer to cable technology like myself, the agenda for SCTE Cable-Tec Expo this week is a dizzying array of new technology and terminology. But even to the most seasoned cable professional, it's clear that the tech community is driving innovation in countless directions at once.
As these new directions are mapped out, it's important that to recognize that technology alone won't get the industry where it needs to be. Marshall Goldsmith, the keynote speaker at today's Awards Luncheon, wasn't addressing the industry when he wrote his award-winning, best-selling book, What Got You Here Won't Keep You Here, but he might as well have been.
Goldsmith would be the first to say that we need to ensure that the industry has the technical leadership in place to meet its objectives — to groom the next generation of leaders who will give cable the agility to convert technological innovation into new services that keep its competitive edge sharp.
CHANGE COMES QUICKLY
The impact of the rapid pace of change in cable over the past two decades has been enormous. Today, individuals from engineering and operations disciplines create and manage more than 50% of cable's capital and operating budgets. That creates increased need for managers who not only understand technology, but who can manage the teams and the business processes necessary to identify, plan for and implement the solutions that can move the industry forward.
To address this need, the SCTE several years ago expanded beyond its traditional training resources to create the SCTE Leadership Institute. The goal was ambitious: to enhance the careers of current and future leaders by forging partnerships with highly regarded institutions and organizations to leverage their educational expertise.
Beginning with a landmark partnership with Tuck Executive Education at Dartmouth University, SCTE created a successful model that today attracts scores of promising executives and managers each year. Both the SCTE-Tuck Executive Leadership Program at Dartmouth (set for April 26-May 1, 2015) and the SCTE-Georgia Tech Management Development Program (to be held from March 9-12, 2015) have excelled at accelerating the careers of talented individuals within the industry.
Let's start with a simple assumption: While there are people who are natural leaders, leadership can and should be taught. Just as the industry would not send engineering and operations professionals into the field with F-connectors and splicers, we should supply the proper tools when we promote those who often are our best technical personnel to management positions.
WHAT LEADERS SHOULD FOLLOW
Becoming a good leader is often like becoming a good parent: Not everyone is born to be a good parent, but those of us who have been and will be in the thick of child rearing learn from our successes and our failures and become better at parenting along the way. Among the challenges:
• Avoiding the pitfalls that can often await when an individual is promoted from peer to leader;
• The need to set boundaries and give guidance so that everyone on a team is able to contribute to the good of the organization; and
• The art of framing feedback not as criticism, but in a way that can generate positive results.
SCTE Leadership Institute programs, particularly SCTE-Tuck, are designed to remove some of that on-the-job training from the equation. As an attendee of SCTE-Tuck this past year, I saw first hand how everyone in the class — from senior directors and vice presidents all the way up through C-level executives — learned to understand the nuances of leadership, such as adapting your style and leveraging individuals' strengths to get the most from a team.
For those of you who are attending today's luncheon — and with Marshall Goldsmith as our keynoter, everyone should be there — here are some words of wisdom from one who participated in his SCTE-Tuck class: While SCTE-Tuck lecturers universally get overwhelmingly positive attendee feedback, Goldsmith stands out for his ability simultaneously to engage, educate and entertain. His energy, his positive message and his inspirational approach riveted all of us who attended his lecture at SCTE-Tuck.
One more insight for those at the front table: There's no hiding from Marshall Goldsmith. He's not inclined to let anyone in the audience off the hook.
TUCK'S TOP TIPS
While Goldsmith and his fellow lecturers are at the heart of SCTE-Tuck, there are many other reasons why it has become the pinnacle for cable technical management training. When we review the consistently high ratings — this year, it scored a 4.9 out of 5.0 — here are some of what those in attendance liked about the Dartmouth program:
Practicality: When you leave the class at the end of the week, or even at the end of the day, you've learned things that you can immediately apply in the workplace to help you to improve the way you manage your team.
Networking: At SCTE-Tuck, students from MSOs and vendors work shoulder-to-shoulder, often teaming for classroom exercises, and spend significant quality time together outside of class. When executives get back to their jobs, they've developed relationships on which they may be able to lean for insights into projects or processes in the future.
Reflection: SCTE-Tuck offers a chance to step away from day-to-day activities and reflect on the importance of leadership and the need to develop the needed skill sets — two objectives that are hard to do when you're immersed in day-to-day tasks. SCTE-Tuck helps you to see the big picture goals, not just the need to get through the next day.
As cable continues to advance, the skills taught at SCTE-Tuck and SCTE-Georgia Tech will continue to grow in importance. For engineering and operations professionals and the industry alike, accelerating leadership training will be every bit as important as accelerating new technologies is to cable's future success.
Lindsay Johnston is the senior vice president of operations at SCTE.
The smarter way to stay on top of the multichannel video marketplace. Sign up below.