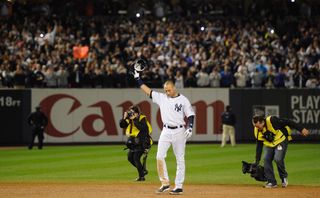 Some people are blessed.
With meteorologists calling for steady rain that would drop inches if not Biblical flooding on some areas of the New York DMA, the Yankees captain's final game in The Bronx was in jeopardy.
MLB said it was going to do everything it could to make sure the contest – essentially meaningless in the standings for the Yankees whom the day before had been eliminated from the Wild Card chase for the second straight season, while Baltimore's hopes to overtake the Angels for the best record in the American League hung by a thread -- was indeed the last stop of the Derek Jeter tour at the Stadium.
Guess God didn't like a script that had him donning a raincoat when Bob Sheppard's taped "Numbah Two" introduction intoned for the last time, or holding an umbrella as the faithful serenaded their final De-Rek Je-Ter hosannas. Maybe He was amused by the placard riffing on Joe D's famous saying, "I want to thank the Good Lord for making Derek Jeter a Yankee." Whatever the reason, the heavens washed away the rain and He certainly couldn't have been disappointed by the ballgame's denouement.
The game had a big opening. Hiroki Kuroda, likely throwing his last game for the Yanks, yielded back-to-back blasts in the first inning. Jeter rose to the occasion, missing a tying two-run dinger by a foot or two. He followed his double by moving to third on a ball that bounced away from catcher Caleb Joseph and then scored on Brian McCann's grounder into short right field.
Jeter's errant throw – he admitted after the game to being extremely nervous and several times was on the verge of "losing it" throughout the day -- resulted in the last E6 of his career.
Our son Alex missed these moments following a four-hour rush from his new doctoral gig at U-Mass Amherst.
But there were plenty more to come: the lunge behind second (going left was always Jete's weaker side) that triggered a double-play; a groundout; a strikeout; and his roller that Orioles (and maybe future Yankees SS) J.J. Hardy threw into right field with the bases loaded in the seventh that pushed New York to a 5-2 lead.
On Saturday in the Malibu Lounge, our daughter Sammi had raised a glass, saluting her mom and me for our Saturday plan that had enabled her and her brother to collect a number of memories from the last go-rounds for Jete and all-time closer, Mariano Rivera. Alex called it the official end of his childhood. Indeed, Sammi and her brother have never really known the Yankees without Jeter at short – last year's sideshow with Jayson Nix and Eduardo Nunez was the fallout from the broken ankle The Captain suffered in Game 1 of the 2012 ALCS.
Mary said that with the departure of the future Hall of Famers, there was no reason to renew the season tickets. There was nothing left to see.
That wasn't the case on Thursday night.
Entering the ninth, the De-Rek Je-Ter sing-song escalated, the crowd realizing the moments were dwindling to a precious few. But we held something in reserve, anticipating that manager Joe Girardi would pull Jeter from short. Much more thunderous applause was on deck.
According to Girardi during the post-game press conference, the script called for Jeter after the contest to walk around the ballpark and meet up with his old friends in the left field corner. From there, Tino Martinez, Joe Torre, Bernie Williams and the Core Four crew of Jorge Posada, Andy Pettitte and Mo would escort Jeter into the tunnel into retirement – a cornfield coronation, Bronx County-style.
But somehow David Robertson and the Orioles and the burly, jovial gentleman sitting behind us in section 128 had another version of the story in mind. The Yankees closer surrendered a two-run homer to Adam Jones and a solo bomb to Steve Pearce to tie the score. Our section 128 buddy swore he wasn't from Tinseltown – I didn't ask him whether he hailed from Vegas. Yet, somehow he knew about what turned out to be the happiest blown save in Yankees history – and what was to come.
Afterward, Rivera made with the quip, telling Robertson, his successor in the ninth, that he was "still the best set-up man in the league."
Buck Showalter, Jeter's first big league manager, before Mr. T came town, and ushered in the late 1990s dynasty with young Derek in the middle, also played a key producer's role.
Showalter didn't walk Jeter with first base open to set up the double play. He also didn't summon Zack Britton who made The Captain look every one of his 40 years on a strikeout to end the Sept. 23 game. Sometimes you don't want what you wish for, John had said in the suite on Tuesday night, after Brett Gardner kept the host's hopes alive with an infield hit.
Instead, it was Evan Meek on the hill. He surrendered a ground single to Jose Pirela and the sacrifice bunt to Brett Gardner that pushed pinch-runner Antoan Richardson to second.
And set up the final, familiar Jeterian swing -- a first-pitch rip through the right side -- at the Stadium that he helped George build.
As Joseph couldn't handle Nick Markakis throw and Richardson slid in safely, Jeter rounded first and thrust his arms skyward, authoring another signature moment. The place lost it as did our family. Shouts of elation collapsed into a group hug as tears flowed, signs of joy on our faces.
Gone for those moments were any thoughts of the much-maligned Yankees/Brandon Steiner/Jeter merchandising tour that followed Rivera's own revue a season ago. Forgotten were the shots taken by Keith Olbermann and Buster Olney about Jeter's rank in the baseball and the Bombers' pantheon, and how Girardi should have dropped Jeter lower in the order. That after 20 years in the New York spotlight, Jeter's ability to politely hide behind the day-to-day push of the season, and push out team-oriented and winning-is-all-that-matters platitudes had many thinking, Derek we still hardly knew ye.
Eradicated were ruminations about Jeter's power-stricken .254 average in 2014, but how he was still one of the better players on and old, inform, mediocre club facing a future, perhaps more uncertain than his own.
http://www.multichannel.com/news/content/yes-hits-top-audience-jeters-st...
It was the final moment in a career catalogue punctuated by The Jump Throw, The Dive, The Flip, Jeffrey Maier, Mr. November, passing Lou Gehrig on the team's hit parade, homers in the Subway Series, 3,000 hits, and a place at or near top of most of MLB's postseason categories.
It was more history with another exclamation point – accompanied by endless loops of Sinatra's New York, New York.
The seventh and final walk-off of Jeter's career, his first since June 2007, also couldn't have been written up any better than in a Gatorade marketing plan. In the ultimate on-field activation for Jeter's walk up River Avenue tribute commercial, CC Sabathia and Brett Garder drained the bucket bearing the No. 2 substituted for the sports drink's logo over Jeter's capless noggin.
With Old Blue Eye's My Way booming in the background, Jeter did make his own Stadium trek, surveying his tract between second and third on the Steinbrenner estate.
Nephew Jalen in his arms, Jeter told Fox's/ SI's Tom Verducci that his last view of shortstop came in The Bronx. But that iwith respect to Boston fans and the rivalry they would see him in "some capacity" this weekend in Fenway.
Why would Jeter risk a strikeout, or a groundout to second -- an all too familiar sight for the Hall of Famer this season -- as his final on-field moment? He has already penned a fantasy ending in the minds and hearts of his fans, like Girardi orchestrated for Rivera's last tearful appearance in Pinstripes.
Still, ballplayers play ball, even a Cooperstown grinder – in his words, Jeter said he was never the most talented, but certainly played as hard as anyone who ever laced them up.
Whatever he does at the Fens, there will be no more watching No. 2 together in the Reynolds' living room, a familial bonding place over Jeter and the Yankees on YES, which drew a record 1.25 million viewers for the icon's final home game. With no postseason ahead and varied commitments this weekend, our last collective live view of Jeter came in The Bronx.
But maybe with some more divine intervention, the final Jeterian chapter will be epic – his rewrite of the Teddy Ballgame coda.
Weekly digest of streaming and OTT industry news
Thank you for signing up to Multichannel News. You will receive a verification email shortly.
There was a problem. Please refresh the page and try again.