Imagine…The World Cup, LeBron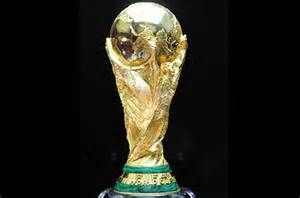 Imagine if the U.S. men's national team were in the World Cup final. Our nation would be bumping today like a certain football Sunday in early February.
Imagine if LeBron James had just told the world he was going to take his talents back to Akron a couple of days after the Heat were crushed by the San Antonio Spurs. There would have been a lot less tweetage and speculative reportage over the past few weeks. And the world would have been a lesser place for it.
Imagine the buzz for soccer if Lionel Messi or Cristiano Ronaldo played for Sam's Army? To lift U.S. Soccer to that next level, Jurgen Klinsmann must uncover his own version of the Little Genius or Irina Shayk's Portuguese Hercules somewhere in Cali, or Kentucky? Or become an expert in ancestral bloodlines and import some such stalwart Stateside.
Imagine if The King had tweeted his royal return. Or better still, had used the 140-character "social" tool to direct them to find out the answer at LeBronJames.com
Then perhaps one could imagine an attendant lower dose of media jealousy, less pontificating about journalism efforts/integrity, or talk about Sports Illustrated paying to play. Perhaps.
Imagine if Neymar hadn't fractured his back.
Imagine if Manu had secured that rebound in Game 6 in the 2013 Finals, then LeBron's three-point clanker results in only one ring thing for Miami's deposed Big Three and the SAS are on a threepeat quest of their own during the 2014-15 campaign.
Imagine what it would be like the U.S. were really any good at futbol, or if Tim Howard could play all 11 positions (and fill the three substitute spot as well)
Imagine we'll all be hostages again when LBJ opts out following next season, after he concludes that Dan Gilbert should have picked Jabari Parker and Chicago over Andrew Wiggins and Canada, that Kyrie Irving is more fragile than D-Wade and that Anderson Varejoa's fro has the same bad mojo as David Luiz's.
Imagine how many fewer viewers there will be than the record 24.7 million who saw the U.S.'s disappointing 2-2 draw versus Portugal for the equivalent match during the 2018 World Cup. The U.S.-Portugal game on June 22 started at 7 p.m. from Manuas, 6 p.m. East Coast time. Four years from now, a similarly scheduled match in Moscow kicks off at 11 a.m. in New York, 8 a.m. in LA.
His feel good, going home story notwithstanding, can't imagine there are still more than a few in Cleveland and others like me who don't kneel at his throne and only root for LeBron when he dons USA Basketball colors.
Imagine how many hundreds of thousands will watch MLS's Seattle Sounders host the Portland Timbers at Century Link Field on ESPN2.
Imagine there would be quite few more, if the match commenced shortly after the World Cup final, instead of at 10 p.m. (ET).
Imagine if ESPN had landed The King scoop. Then its battalion of NBA beat reporters, particularly LBJ chronicler Brian Windhorst, wouldn't have looked so forlorn. Or maybe it's just the prospects of having to spend more time on the shores of Lake Erie than in South Beach, or having to relocate to Cleveland.
Imagine if the World (Cup) were just, Wondolowski would be a little bit further along on his walk home than Scolari.
Imagine if James had taken a play from colleague Tim Baysinger's playbook and been part of the World Cup trophy presentation -- or spotlighted on TV during the Germany-Argentina match– rocking a Cavs jersey. Now, that's marketing genius.
(Can only imagine that the executives at Showtime would have been happier if Money Mayweather had used another vehicle than @FloydMayweather to announce his "Mayhem" rematch against Marcos Maidana, considering the premium network is paying him some $200 million and that their first bout generated just 900,000 PPV buys.)
Imagine if there were actually real clocks in soccer matches. Or if grown men – some of whom may actually be in real pain – were escorted off the pitch in something better than FIFA's faux toboggan.
Imagine if there were no salary cap in the NBA, then LBJ, Melo, KD, Love, Harden, Paul, Dragic, Kobe, Howard, Jordan, Bird, Magic and Clyde could all play for Jim Dolan's Knicks.
Imagine if the U.S. were in the final today, the audience projections would be Super Bowlian.
Still have to imagine that ESPN and Univision cap their outstanding coverage of FIFA World Cup 2014 by topping their combined tally of 24.3 million watchers for the Spain-Netherlands final in 2010. Imagine around 27 million…and a new U.S. audience mark for futbol. Or more if Argentina scores early and the Germans have to chase...
The smarter way to stay on top of the multichannel video marketplace. Sign up below.