Hope for Mayweather-Pacquiao PPV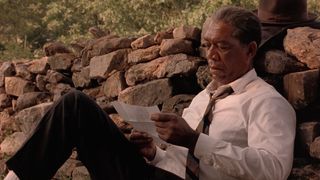 In Shawshank Redemption, Morgan Freeman's Ellis Boyd Redding character reads a letter from Tim Robbins' Andy Dupree: "Remember Red, hope is a good thing, maybe the best of things, and no good thing ever dies."
Given Floyd Mayweather's post-fight comments after his unanimous decision in his rematch against Marcos Maidana, there's a flicker of life in the boxing and distribution communities about the long-moribund prospects for a mega-fight with Manny Pacquaio. Maybe.
"We don't know what the future holds, as of right now," Mayweather said. "Anything is possible. At the moment I want to go home, have a break, spend some time with my children and then see who's next in May. Hopefully it's Manny Pacquiao."
But the comments from "Money" also included some qualifiers before a "Pac Man" battle could ensue. "If the Pacquiao fight does happen it has to happen on Showtime pay-per-view only and Mayweather Promotions have to do the fight."
Pac Man, of course, is a member of Bob Arum's Top Rank stable and HBO's PPV camp.
Then, there's the longstanding animus and mistrust between the men who have been boxing's best pound-for-pound pair for the better part of a decade.
A meeting in 2009 was scotched over disputes about drug-testing protocols. Mayweather has also made racial and homophobic slurs against Pacquiao, which many view as the undefeated champion running scared from the Filipino politician.
Of course to have any chance, Pacquiao has to take care of business in his welterweight defense against decided underdog Chris Algieri on Nov. 22 in Macau.
"I'm gonna go and talk to my team and see what the future holds," Mayweather said. "I don't know who I'm fighting in May but I expect to fight in May. Manny Pacquiao needs to focus on the guy in front of him. Once he gets past him, he can look to the future. If the Pacquiao fight presents itself let's make it happen."
That's hopeful. Should Pac Man hold up his end of the bargain in China -- maybe, just maybe -- the stage could finally be set for a megafight that would have been far more intriguing five years ago.
But time is running out on this sliver of PPV hope.
Both fighters are getting to the end – Mayweather is adamant he's out after the two remaining fights on his six-bout contract with Showtime. CBS's premium network would certainly appreciate a nice going away promotion(s) from Mayweather, who earned a minimum of $32 million on Saturday night. That figure will rise depending on how many bought the fight: the first Mayweather-Maidana bout reportedly drew just 900,000.
Mayweather and Pacquiao in May. Perhaps followed a year from now by a big Money finale, a rematch against Canello Alvarez – their September 2013 fight generated 2.4 million buys and a a PPV record $150 million in revenue.
Hope is a good thing ... and could be a very profitable thing.
The smarter way to stay on top of the multichannel video marketplace. Sign up below.