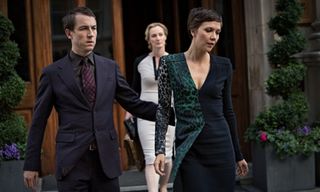 TV viewers looking for some strong female-driven dramas have two terrific new options this summer, one on Starz and the other on SundanceTV. I say this as my wife and I are midway through screener-disk binges of Outlander and The Honorable Woman, respectively, sometimes forgetting if we are caught between the English and Scots in 1743 or between the Israelis and Palestinians today. Outlander premieres on Aug. 9; The Honorable Woman started on July 31.
Outlander will benefit from fans of Diana Gabaldon's series of novels. Starz will certainly hope to attract many of them as new premium subscribers, as will distributors such as Time Warner Cable. The companies sponsored a screening and panel session last week at New York's 92nd Street Y that drew a packed house with shrieks resembling gatherings at Comic-Con International.
The Honorable Woman has stars led by Maggie Gyllenhaal, and bears a resemblance to the Showtime hit Homeland. But, as an otherwise unknown quantity, it needs social support from those who've seen the show — including those watching it now in the U.K. on BBC2, where they spell it "Honourable."
Outlander is a costume drama that gets the period details right and pulls off the nifty trick of leaving a lot of dialogue in untranslated Gaelic, making viewers feel that, like Claire Randall (Caitriona Balfe), they've been transported to a foreign place and will require all their wits and skills to survive.
The Honorable Woman does a bit of timetraveling — to 29 years ago, eight years ago and back to the present — and places Gyllenhaal's character, Nessa Stein, in physical danger, too. Both also must keep secrets.
Claire knows she won't be believed if she says she's from the future, and already has enough powerful men skeptical about her. Nessa is keeping a life-or-death secret that keeps interfering with her efforts to bring peace and prosperity to Palestine and Israel.
The smarter way to stay on top of the multichannel video marketplace. Sign up below.
Kent has been a journalist, writer and editor at Multichannel News since 1994 and with Broadcasting+Cable since 2010. He is a good point of contact for anything editorial at the publications and for Nexttv.com. Before joining Multichannel News he had been a newspaper reporter with publications including The Washington Times, The Poughkeepsie (N.Y.) Journal and North County News.