Google Two-Pronged TV Play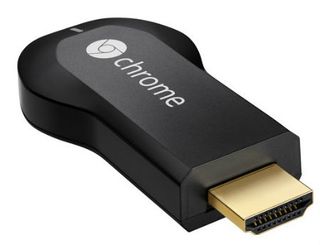 Google still hasn't revealed sales or shipment figures for Chromecast since the streaming adapter took the market by storm about 15 months ago, but it's clear that usage of the platform is still on the rise.
Speaking at the GigaOm Structure Connect event on Tuesday, Google VP of product management Mario Queiroz said Chromecast users have tapped the cast button 650 million times, up from 400 million cast milestone reached in July, roughly a year after the product hit the market.
As for those other Chromecast numbers, Google's still keeping those numbers close, but has sold "millions of devices…and that number keeps growing fast," Queiroz said, noting that more than 6,000 developers are building north of 10,000 apps for the Google Cast ecosystem.
Queiroz was also asked to explain how Google is approaching the TV-connected market with essentially two types of products – the Chromecast and an expected flurry of devices that will run the new Android TV platform (while also supporting Google Cast).
"Every TV in the home with broadband is an opportunity for us to connect to that TV," he said. But while the Chromecast is really an extension of the mobile experience, "Android TV is a platform," he added, noting that the new Nexus Player is a showcase of how that platform can be used.
Google's also working with Philips, Sony and others to build Android TV directly into the TV set, but Queiroz also acknowledged that Google has work underway to embed the Chromecast's functionality into devices as well.
"We're building an ecosystem of different end points and applications which can send content to those endpoints, so Chromecast is an end-point," he explained. "Android TV devices will be another end point."
So the point is that Google's going to be supporting a lot of end points that connect to the TV.
Queiroz also confirmed that Google's working on a second version of the Chromecast, but declined to reveal anything about its feature set. "We want to bring the richness of this first screen/second screen experience to life," he said.
The ZatzNotFunny blog has come across some new FCC filings that confirm that a new Chromecast is coming, but speculates that it could merely represent a minor revision to the device's hardware.
The smarter way to stay on top of the multichannel video marketplace. Sign up below.