Google's VR 'Daydream' Nearing Reality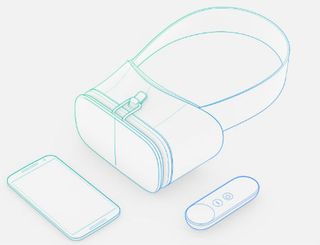 Google will launch Daydream, its new Android-based virtual reality platform, in the "coming weeks and has been lining up talent and apps partners in preparation for the big debut, Bloomberg reported.
Google has not announced a launch date for Daydream, but announced the initiative in May as the company looks to take a big leap beyond its early work around inexpensive Cardboard viewers. But like Cardboard, Daydream viewers will also need to be paired with compatible smartphones that can run the new, higher-performing Android N operating system. Google has created reference designs for Daydream viewers and controllers for other manufacturers but is also working on its own Daydream products.
Daydream's entry will give Google more VR ammo to compete against Samsung's Oculus-powered Gear VR platform, as well as higher-end VR systems such as the Oculus Rift and HTC Vive and Sony's coming PlayStation VR, which must be connected to a PlayStation 4. Intel, meanwhile, recently announced a augmented/virtual reality hardware initiative called Project Alloy.
According to Bloomberg, Google's not diving too deeply into its pocketbook yet to on Daydream, noting that it's shelling out "high six figures" for games and offering "low five figures to low six figures" for films and other 360-video projects. The report added that Google will also VR projects from Hulu and enlist the help of YouTube stars such as the Dolan twins and Justine Ezarik.
The smarter way to stay on top of the multichannel video marketplace. Sign up below.
Thank you for signing up to Multichannel News. You will receive a verification email shortly.
There was a problem. Please refresh the page and try again.