Google Fiber Has Comcast's Attention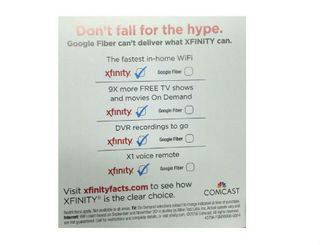 Comcast already tangles with Google Fiber in Provo, Utah, so it knows what it's up against as its emerging rival begins to encroach on another Comcast market, Atlanta.
Per this post on Reddit (and later highlighted by Ars Technica), Comcast has been sending around a flyer with the warning: "Don't fall for the hype. Google Fiber can't deliver what Xfinity can."
As shown above, that's followed by a checklist in which Comcast touts the speed of its in-home WiFi, vault of free VOD content, the ability to take DVR recordings on the go, and the MSO's new X1 voice remote.
Word of the flyer comes soon after Google Fiber began to make services, including its 1-Gig broadband service, available to a few apartment buildings in the Atlanta suburbs. Google Fiber is in network construction-mode in the Atlanta area, but is using some existing fiber infrastructure there to accelerate its ability to offer services there -- an approach that Google Fiber might try to replicate in other markets.
In Atlanta, Comcast currently offers a fiber-based symmetrical 2 Gbps residential broadband service there called Gigabit Pro that's uncapped and uses FTTP, but is currently more expensive than Google's standalone 1-Gig service, which fetches $70 per month.
Comcast has also identified Atlanta as one of a the first markets where it will roll out DOCSIS 3.1 in support of residential and business gigabit broadband service. Comcast hasn't revealed pricing for its coming D3.1-powered offerings and if they will part of Comcast's usage-based broadband trials. Atlanta is currently a market that's taking part of the trials, which include policies with soft monthly caps that charge extra for additional buckets of data, as well as a newer "unlimited" data option.
The smarter way to stay on top of the multichannel video marketplace. Sign up below.