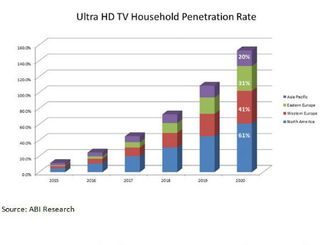 All signs indicate that the latter half of 2015 will usher in a number of service provider deployments of Ultra HD (4K) TV. This shouldn't come as a surprise to anyone: With the promise of a dramatically immersive TV viewing experience, consumers have been purchasing 4K TVs at an accelerating clip. The average price of an Ultra HD set has dropped at a dramatic pace since they first debuted in 2013 – falling 95% or more in some cases. Ultra HD-enabled set-top boxes are also becoming broadly available. Ultra HD content and service providers are gearing up to meet increased demand for 4K programming options.
Ultra HD TV Sales on the Rise
Falling costs are a big factor in consumer adoption of Ultra HD technology. Demand for 4K TVs is soaring worldwide as entry-level price points drop well below $1000, model availability expands, and consumers seek out the next best technology as they upgrade aging flat-panel TVs.
For example, the 80+ inch Ultra HD TVs announced at the Consumer Electronics Show in January 2013 were priced at more than $20,000. Today, Ultra HD TVs from widely available brands such as Samsung and Sony start at just $799; Sharp and Vizio sets start at just $599.
That said, the capability to display crystal-clear Ultra HD is just one piece of the 4K ecosystem. At the heart of the technology are the enabling coding standards that allow service providers to move bit-rate-intensive Ultra HD TV through legacy pipes. The High Efficiency Video Coding (HEVC) standard allows operators to transmit content at 50% of the bit rate previously required.
The forecast from multiple independent market research firms point to a dramatic rise in Ultra HD TV sales. According to ABI Research, more than 60% of U.S. homes will own an Ultra HD TV by 2020 (see chart). It is possible these penetration rates could prove conservative if manufacturers make a full or near-full transition to Ultra HD.
Content is King
As Ultra HD becomes more mainstream, content developers have been working behind the scenes to prepare for the transition. Service providers such as Amazon announced its release of 4K content services in December of 2014, while streaming video provider Netflix announced its release of an expanded folio of 4K content with deployments planned for later this year. Google's YouTube, with its new VP9 coding scheme, is also offering Ultra HD content.
Meanwhile, Ultra HD set-top boxes, a critical component in the Ultra HD infrastructure, have been announced by providers from around the globe including British Telecom, Comcast, DirecTV, DISH, Sky Deutschland, Technicolor and TiVo as well as an Android TV platform available from Freebox in France.
Clearly, 2015 is shaping up to be an exciting milestone in truly immersive TV, combining a telepresence-like experience with readily available, high-quality content, low-cost TVs and equipment.
Rich Nelson serves as Senior Vice President of Marketing, Broadband & Connectivity Group at Broadcom Corporation. In this role he is responsible for driving the company's system-on-chip (SoC) strategies for the worldwide set-top box (STB), digital television (DTV) and cable modem end markets. Nelson holds a Bachelors of Science degree in Electrical Engineering from Rennselaer Polytechnic Institute and a Masters of Business Administration degree from Pepperdine University.
The smarter way to stay on top of the multichannel video marketplace. Sign up below.