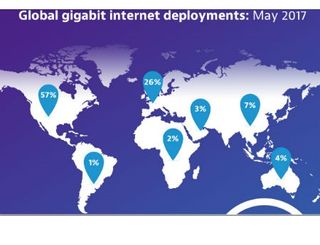 Some 219 million people worldwide have 1-Gig speeds available to them, or about 3% of the globe's population, Viavi Solutions estimated in its latest Gigabit Monitor, a database that tracks those deployments.

In all, there are about 603 gigabit internet deployments, up 72% since June 2019, Viavi found.
RELATED: North America Leads Gigabit Deployments: Study
Not much has changed since then with respect to regions that are seeing the greatest rate of 1-Gig deployment growth.
In the May 2017 iteration of the report, North America achieved the highest growth rate, at 57%.
The composition of deployments using FTTP worldwide led all architectures by a wide margin, at 91.01%, followed by HFC networks (5.26%), Viavi said, noting that cellular, at 3.65% now, will rise as operators start to test and deploy 5G-based 1-gig fixed wireless services. Viavi said 25 mobile operators are currently lab-testing 5G, with about a dozen progressing to field trials.
RELATED: Verizon Exec: 'Meaningful' 5G Deployments to Start in 2018
The study also found that there are 41 countries with gigabit internet service available in some form, with Singapore (95%) being the country with the highest percentage of the population covered, followed by South Korea (93%), Moldova (90%), and Portugal (64%).
Viavi updates the monitor regularly, basing it on its analysis of current and planned gigabit deployment data. The latest version also factors in population coverage estimates.
The smarter way to stay on top of the multichannel video marketplace. Sign up below.