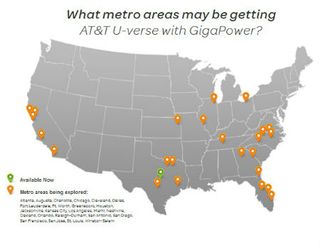 If – and it's still a huge if -- AT&T decides to do more than talk and expand its fiber-based U-verse with GigaPower network to 21 U.S. metros, just how exposed would the incumbent cable operators be in those markets?
It's still impossible to really know that because AT&T has not committed to these new markets and will use a Google Fiber-like cherry-picking, demand-based deployment model in areas where it does build out its GigaPower network. So, there are caveats galore here.
But MoffettNathanson principal and senior analyst Craig Moffett took a stab at the extreme scenario – what kind of hurt could AT&T put on cable operators if AT&T went GigaPower crazy and decided to build it out to every home in every city it's at least considering?
In Moffett's analysis, here's the potential, worst-case exposure:
Comcast: 1.79 million subscribers exposed (8.3%)
Time Warner Cable: 1.54 million subs exposed (13.6%)
Cox Communications: 210,000 subs exposed (4.8%)
Charter Communications: 107,000 subs exposed (2.5%)
Comcast (pro forma): 3.33 million subs exposed (10.1%)
But, as Moffett rightly points out, "this substantially overstates the risk to the cable operators, because not all of the cities will agree to AT&T's terms…and AT&T will not build to every house in every city in which it garners approval. Regardless, this analysis helps to dimension the issue."
AT&T CFO John Stephens did field some GigaPower questions on the company's first quarter earnings call on Tuesday, but wouldn't take the bait when asked about the time frame and the level of commitment AT&T is making in these newly identified markets, other than to say that discussions are underway and that AT&T is "optimistic" about them.
But he did say AT&T was surprised that the take rate in Austin, its first GigaPower market, exceeded the company's expectations, and that favorable conditions offered by the city have made the economics favorable. All that was missing was a thank you to Google Fiber for showing the way.
"The key to the success there was that we're able to get kind of right way, and permitting and pull rights and other rights to build in the same manner as other companies which we haven't had historically," Stephens said. "And we're able to focus our build on the customers that drove demand as opposed to…ubiquitous coverage."
The smarter way to stay on top of the multichannel video marketplace. Sign up below.