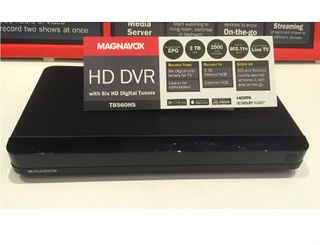 Magnavox, not exactly a brand that screams bleeding-edge, came out of CES looking to get an edge on the cord-cutting trend with a set of subscription-free DVRs that could put some pressure on Channel Master, as well as subscription-based offerings from TiVo.
Magnavox announced three models last week:
-MDR877H/F7 for $399.99 (two tuners, 1 terabyte of storage, and DVD player/recorder)
-TB560HP/F7 $449.99 (two tuners, 1 TB of storage)
-TB560HS/F7 $499.99 (six tuners, 2 TB of storage). Photo of the unit, via CNET, is pictured above.
While the model names could use some punching up from Magnavox's marketing folks, all three are due out in the fourth quarter of 2016 and will allow for more storage using external USB-connected hard drives.
While all three will include support for over-the-air TV and access to subscription-free access to the underlying EPG (from Rovi), they will also function as "full-featured media servers," which means it can stream content securely to other devices on the home network.
Magnavox's lineup also supports something called "DVR sync," which lets users consolidate all recordings on the menu in multi-room set-ups.
Per CNET, Magnavox's offering will support home-side streaming to iOS and Android devices, but the demo did not show integration with other streaming services, such as Netflix.
The other news of significance last week on the subscription-free DVR front came way of Channel Master, which has added Sling TV to its repertoire of integrated OTT apps. Magnavox's new lineup might provide for another device target for Sling TV to pursue.
The smarter way to stay on top of the multichannel video marketplace. Sign up below.
Thank you for signing up to Multichannel News. You will receive a verification email shortly.
There was a problem. Please refresh the page and try again.