FiOS TV Starts to Unshackle its DVR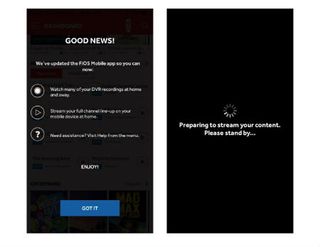 Dave Zatz sends word via his ZatzNotFunny blog that Verizon FiOS TV is starting to introduce a "DVR Anywhere" feature as part of its IMG software 3.0 upgrade.
According to the release notes floating about, DVR Anywhere will allow FiOS TV subs to access their recordings on Internet-connected mobile devices. Additionally, the software update enables in-home streaming of the full live TV lineup on the FiOS Mobile app.
Those features put FiOS TV closer in line with options offered by Comcast's X1 platform, which allows for in-home streaming of the full TV l lineup and, in several markets, access to a Cloud DVR that lets users stream recorded shows in or out of the home, or download the recording to a mobile device for offline viewing. TiVo, of course, offers similar features on its platform.
In Verizon's case "you'll seemingly need both FiOS TV set-box and router hardware in the mix… as the Quantum DVR becomes a video gateway," Zatz noted pointing out that the update allows for FiOS TV subs to stream the entire channel lineup in the home via the mobile app, versus a smaller subset.
It's not yet clear if Verizon has rolled out the software update to all eligible customers (we've asked Verizon for additional details, but the telco has remained mum so far). However, a customer in New York claims on the DSL Reports message board that the 3.0 release is out in Syracuse and Buffalo.
Other evidence indicates Harrisburg and Philadelphia received the update recently, and FiOS TV systems in line to get it in the coming weeks include Queens, N.Y.; Maryland; New Jersey; Pittsburgh; Texas; Florida and California.
We'll update this post as more details are known.
Update: Per a Verizon spokesman, the company expects to complete the rollout of these new features to all FiOS TV markets by around mid-December. The new features will be available to customers who have FiOS Quantum TV and download the FiOS Mobile App.
Meanwhile, on the product front, Verizon has been hitching its whole-home TV wagon to an Arris-made Verizon Media Server that packs six tuners and 1 terabyte of DVR storage, as well as a new souped-up broadband gateway with on-board 802.11ac WiFi and MoCA 2.0.
Weekly digest of streaming and OTT industry news
Thank you for signing up to Multichannel News. You will receive a verification email shortly.
There was a problem. Please refresh the page and try again.