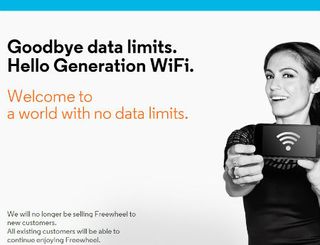 Following Altice's acquisition of Cablevision Systems in June, it was abundantly clear that the days of Freewheel, the WiFi-only phone service launched by Cablevision in early 2015, were numbered.
RELATED: Cablevision Gets Rolling With 'Freewheel'
The phase-out was well underway in July, when Altice halted sales of Freewheel, though existing customers, who were paying $9.95 per month if they were taking the MSO's high-speed Internet service or $29.95 per month if they were not, could continue to use the service. Left open was how long Altice intended to support the service for those legacy subs.
RELATED: Altice Halts Freewheel Sales
Now we know…the show's pretty much over.
According to the updated FAQ for Freewheel, the service will be discontinued at the start of the December bill cycle for current customers on the service. International calling services for Freewheel ended at the end of their November bill cycle.
Cablevision and Altice never announced how many customers subscribed to Freewheel, but Altice said those who are still using it have been alerted to the shut-down timing.
But getting Freewheel off the ops will help Altice get on to bigger and better things, including its ambitious plan to upgrade all its Optimum (former Cablevision) properties and most of its Suddenlink footprint to fiber-to-the-premises over the next five years.
RELATED: Altice USA In a 'Unique Spot' For FTTP Upgrade
And, for what it's worth, the shut-down will also eliminate any confusion with FreeWheel, the online ad-tech firm now owned by Comcast.
Thank you for signing up to Multichannel News. You will receive a verification email shortly.
There was a problem. Please refresh the page and try again.