Facebook Happy, Patient About VR Biz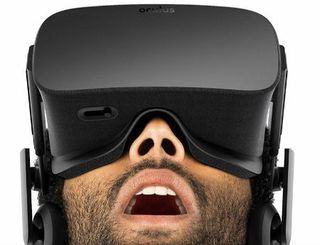 Facebook continues to preach cautious optimism about Oculus Rift, the high-end virtual reality headset/platform that will start to ship to consumers in April.
Regarding pre-orders, which opened up earlier this month, Facebook isn't offering any sales figures yet, but seems satisfied with the early results.
"Yes, I am happy," Facebook CEO Mark Zuckerberg said Wednesday on the company's Q4 earnings call, when asked about pre-order activity. "I don't show much joy, but I am happy."
And he reiterated that gaming will be the core focus of the Rift early on, expecting to see more than 100 VR games and "experiences" come to the platform this year.
"It's going to be gaming for the beginning. That's the initial market," Zuckerberg said, noting that about 250 million people have an Xbox, PlayStation or Wii. "I think we're off to a good start."
But Facebook also knows that it's shooting high-end – the core Oculus Rift bundle (which includes the headset, a remote, an Xbox One Controller and two games) starts at $599, with Rift-PC combos starting in the $1,500 range.
Facebook CFO Dave Wehner tempered the near-term expectations, noting that "it's early to be talking about large volumes...At this point I don't think we're giving a lot of color around supply chain and that sort of thing. It's not going to be material to our financials this year."
Some analysts are taking that to heart. "We have heard from investors whose estimates for VR-related 2016 revenues are $2 billion, and, in some cases, more than $3 billion. Both seem excessive to us, or at least too speculative," Carlos Kirjner, senior analyst at Bernstein Research, said in a research note issued Thursday. He rates Facebook shares at "market-perform" with a 12-month target price of $150 per share.
VR was just one area of focus during the call, with Zuckerberg calling video "an important part of the Facebook experience," as users now watch 100 million hours of video on the social media platform each day.
He said FB is experimenting with video discovery tools and opened the door for even grander plans -- "exploring ways to give people a dedicated place on Facebook for when they just want to watch videos. "We're also exploring ways to give people a dedicated place on Facebook for when they just want to watch videos," he said.
Facebook has also opened up a video channel for Instagram that, in a Twitter-like twist, lets users share and watch "moments" from events.
The smarter way to stay on top of the multichannel video marketplace. Sign up below.
Thank you for signing up to Multichannel News. You will receive a verification email shortly.
There was a problem. Please refresh the page and try again.