Ericsson's New Cable Modem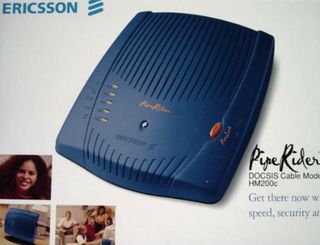 Back in the early 2000s, CableLabs's DOCSIS certification crew had its hands full running tests on DOCSIS cable modems and reference designs from companies like Com21, 3Com, Panasonic, Scientific-Atlanta, Linksys, Tellabs, Texas Instruments, Toshiba, Terayon Communication Systems, HighSpeed Surfing, US Robotics – companies that are all no longer in the cable modem business for one reason or another (they bugged out of the market, got bought, or just plain died).
Another in that group was Ericsson, which I'm sure everyone remembers sold its cable modem business to a Canadian company called Aastra Technologies in January 2002 (Aastra merged with Mitel in 2014, and cable modems are no longer part of the product lineup from what I can tell).
Ericsson, which made DOCSIS gear under the "PipeRider" brand (see photo), exited the cable modem business as the sector was busting at the seams with suppliers, product margins were shrinking, and the whole smash was in need of a heavy dose of consolidation.
So my curiosity was piqued when I noticed that an Ericsson DOCSIS 3.0 modem came away with CableLabs certification in June following wave 114. The last time Ericsson's name came up on the list was in December 2001 (cert wave 20), when it got a modem stamped for DOCSIS 1.1, a spec that added QoS to the mix for services like VoIP.
So, again, I was curious. Clearly, it made zero sense for Ericsson to jump back in and sell cable modem products at retail. You need CableLabs certification for that, but MSOs still require vendors to get the CableLabs stamp even on products that are sold directly to cable operators.
Maybe, I thought, Ericsson is working on some fancy IPTV cable video gateway powered by DOCSIS. After all, it's a licensee of the Reference Design Kit, a software stack managed by Comcast, Liberty Global and Time Warner Cable. Plus, it now has Mediaroom and recently launched a cloud-focused video platform for pay TV and OTT providers called MediaFirst. Maybe that's the connection, I thought.
Nope. Turns out to be something that's much less interesting (to me, anyway).
Ericsson got back to me on it, reminding me that they offer a range of WiFi access points to the cable industry, that those products contain integrated D3 modems, and have been in the portfolio for some time. Still not clear is if Ericsson is making that DOCSIS module itself or sourcing it from someone else.
So, mystery (mostly) solved. The PipeRider will not ride again. But it was fun to take the WayBackMachine for a spin.
The smarter way to stay on top of the multichannel video marketplace. Sign up below.
Thank you for signing up to Multichannel News. You will receive a verification email shortly.
There was a problem. Please refresh the page and try again.