End of the Road for Original Tablo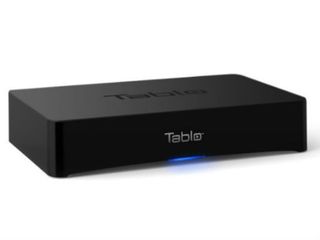 Nuvyyo is getting ready to turn the page on the original Tablo 2-Tuner OTA DVR, as it will end production on that model for cord-cutters and amplify its focus on its new Tablo DUAL device, which also comes with two tuners, plus integrated storage.
Related: Nuvyyo Forges New Cord-Cutting Tool
Though production on that original model (pictured) is ending, Nuvyyo stressed that it will continue to support existing Tablo 2-Tuner OTA DVRs with firmware and app updates. Additionally, existing Tablo TV guide data subscriptions will continue to work with those products, the company said.
Production on the 4-Tuner Tablo OTA DVR will continue, the company said.
It's also blowing out some inventory, offering refurbished 2-Tuner TAblo OTA DVRs for $99.99, along with a 30-day trial if a guide data subscription and covered by a 12-month warranty. But those refurbished devices aren't eligible for the company's 30-day return policy, standard on new units.
The Tablo Dual, about 20% smaller than its predecessor, went on sale in June, and includes 64 gigabytes of onboard DVR storage, about enough to hold about 50 hours of HD programming. By comparison, the original two-tuner Tablo product requires users to bring their own storage device by tethering the Tablo to a hard drive with a USB cable.
The smarter way to stay on top of the multichannel video marketplace. Sign up below.