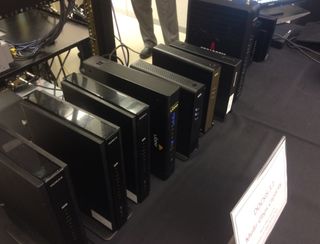 A big question about DOCSIS 3.1 was answered this week as five vendors became the first to achieve CableLabs certification for the cable industry's emerging multi-gigabit platform for widely deployed HFC networks.
Another big one still to be answered definitely is how much are these new devices going to cost?
One thing's for sure – D3.1 devices are going to cost more, based on the mere fact that the initial hybrids are like two modems fused together: one side that can handle DOCSIS 3.0-based traffic, and another end that can support fresh swaths of D3.1-based spectrum.
It's difficult to do a direct apples-to-apples comparison on D3.0 versus D3.1, since many new classes of gateways bake in a lot more than the modem – advanced WiFi radios, MoCA technology, etc.
When I broached the D3.1 cost delta question to several vendors last fall, the general expectation was that the new class of modems will cost between 30% to 50% more in the early going, and then decline as volumes increase.
While that sounds like a hefty premium, it's nowhere near the delta that was initially seen between DOCSIS 2.0 and DOCSIS 3.0 modems. Back then, it was estimated that the first D3.0 models cost 300% to 400% more than D2.0, in large part because of the additional tuners required. A lot of that functionality got baked into the chipsets, volumes exploded, and the costs came down considerably.
But one supplier did offer up a more exact pricing expectation with D3.1, noting that the first wave of DOCSIS 3.1 modems will cost about $25 more than their DOCSIS 3.0-only counterparts – which would put them in the 50% delta range. Prices, the exec said, will drop from there are MSOs rev up their mass deployment plans.
So, it's a price difference that MSOs will need incorporate as they seed their networks for D3.1, but the difference is a fraction of what they were dealing with when the DOCSIS 3.0 era was getting underway.
We'll have more DOCSIS 3.1-related analysis to share in the January 18 issue of Multichannel News.
The smarter way to stay on top of the multichannel video marketplace. Sign up below.
Thank you for signing up to Multichannel News. You will receive a verification email shortly.
There was a problem. Please refresh the page and try again.