DirecTV Now's 'Customer Lifetime Value' Not Favorable: Analyst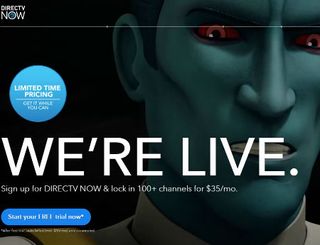 The pricing and packaging of DirecTV Now are poised to generate subscriber growth, but the economic value of AT&T's new OTT-TV service is a far cry from its traditional pay TV offerings, according to a top industry analyst.
RELATED: DirecTV Now to Launch on November 30
"It is easy to imagine that DirecTV now will generate subscriber growth," MoffettNathenson analyst Craig Moffett said in a research report issued Monday titled AT&T and DirecTV Now: When Old and New Collide. "After all, in what we expect to be their most popular tier they are selling programming roughly at cost, and they are giving away a free Apple TV for the privilege."
"But will it generate profits? And are profits even the right measure?" Moffett asked.
DirecTV Now, launched November 30, offering four packages, with most attention being heaped on the temporary price of $35 per month affixed to 100-plus channel bundle called "Go Big" that will regularly sell for $60 per month. DirecTV Now is also selling HBO for $5, a deep discount on its standalone service, HBO Now, and what Moffett sees as a 50% discount on the wholesale price.
For this analysis, Moffett tries to compare the Customer Lifetime Value of the traditional AT&T U-verse and DirecTV pay TV services and the new OTT option, calling it the most accurate barometer of economic value creation.
"The verdict is not a favorable one" for DirecTV Now, he said.
He said a traditional satellite sub at DirecTV commands a CLV of $2,500, a figure that factors in add-ons like NFL Sunday Ticket and DVR service, and estimates that the most lucrative package from DirecTV Now carries a CLV of just $700, and the CLV of subs to both the DirecTV $35 promo package and entry-level packages will be in the negative.
He also allows that the CLV estimates for DirecTV Now don't include the cost of subsidizing HBO and free wireless data, and that the radical reduction of customer acquisition costs of DirecTV Now and a possible migration to an OTT-first platform would initially release a lot of cash.
But it's this "yawning gap" of economic value between legacy subs and OTT that also makes Moffett question a report that the company might consider this as its primary platform down the road. He likewise doesn't expect to see AT&T pursue that strategy on a rapid basis. At last week's event, John Stankey, CEO of AT&T Entertainment Group, did say that the new video platform, which DirecTV Now is riding on, will serve as "the foundation for how we're going to do things in the future."
I took that to mean that AT&T will use the same stack and other technical underpinnings on its various pay TV offerings, including DirecTV and U-verse, that's being used for DirecTV Now, and not a declaration that the company expects to go exclusively with an OTT-only approach for pay TV services.
And seeking technical unity makes a lot of financial and operational sense. Other MVPDs are already trying to drive that sort of technical commonality with their respective video tech platforms and interfaces for set-tops and mobile devices – for example, Comcast has X1, while Liberty Global has "EOS." Verizon reportedly is working on a next-gen platform called "Mallard" that would appear to have similar aims.
RELATED: Liberty Global Seeks Set-Top Unification
But back to the economics of the new OTT-TV offering. "Even after accounting for much lower subscriber acquisition costs, the lifetime value of a DirecTV Now customer will be radically lower than that of a legacy one," Moffett wrote. "And even after accounting for the net subscriber growth this strategy will likely deliver, the strategy as a whole is unambiguously unattractive."
And he was clear not to suggest that DirecTV Now and DirecTV and U-verse TV are one-for-one substitutes, as the OTT product is designed to minimize cannibalization of the highest value subs on DirecTV's satellite platform (i.e. families that take premium tiers like NFL Sunday Ticket).
He also acknowledges that there are some other sources of value that have not been considered for DirecTV Now, including a hope that zero-rating DirecTV Now might cause other OTT services to pay for zero-rating as well. However, those zero-rating policies are being scrutinized by the FCC.
AT&T Defends DirecTV Now, Sponsored Data
AT&T, Moffett pointed out, is also banking that its zero-rating policy will likewise make AT&T's wireless service more attractive than its rivals and result in more market share.
However, T-Mobile's decision to zero-rate DirecTV Now traffic "blunts the competitive benefit" – something that T-Mobile CEO John Legere couldn't resist pointing out on Twitter during the DirecTV Now presser last Monday (Nov. 28).
1/ Right now, @att is on stage, high-fiving themselves for zero-rating DTV Now, but guess what?! #TMobileONE already does that…to ALL VIDEO!
— John Legere (@JohnLegere) November 28, 2016
Moffett also allowed that DirecTV Now will become a platform to deliver addressable advertising, calling it the "most tangible of the three."
However, he said it's also unlikely that the financial benefit will be large in the near term via the local ad avails that AT&T/DirecTV controls, but that it could "contribute a few dollars in incremental margin per subscriber per month."
The smarter way to stay on top of the multichannel video marketplace. Sign up below.
Thank you for signing up to Multichannel News. You will receive a verification email shortly.
There was a problem. Please refresh the page and try again.