Didja Loses Set of Digi-Nets for Local OTT TV Offering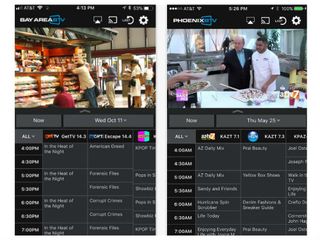 Didja, a company that has launched an OTT offering featuring several local broadcast channels in Phoenix and the Bay Area, has hit a speed bump of sorts.

RELATED: Didja Takes Dozens of TV Stations Over-the-Top in the Bay Area
As reported by FreeTVBlog, those services – branded locally as Phoenix BTV and Bay Area BTV, recently dropped three Katz Broadcasting digi-nets: Bounce, Escape and Grit.
Didja confirmed that those networks are not currently in those local lineups, but believes the situation is temporary, and remains hopeful that they will be restored to its lineups.
Didja did not elaborate on why those networks have been taken off. Katz Broadcasting has been asked for comment.
According to FreeTVBlog, Didja customers in Phoenix recently received an alert that Grit, Escape and Bounce were temporarily unavailable. "We hope to bring you these channels again soon."
Speculation is that the two sides still must hammer out a formal distribution deal.
Didja's approach with its LocalBTV offering (a service that is rebranded by market) is to sign distribution deals with local broadcasters on a free, OTT-delivered live TV service for web browsers and mobile devices, complemented by a paid (and optional) DVR offering. With those deals in hand, Didja captures the over-the-air TV feeds from partners at a local data center, and converts them into OTT video streams that are accessible only in the local DMA. By comparison, the now-defunct Aereo tried to do something similar without getting carriage agreements.
Didja's service is generally designed to appeal to millennials and other younger audiences that tend to consume video on their mobile phones and to capture consumers who are cord-cutters or have otherwise fallen out of the pay TV ecosystem. The lineup is also aimed at bilingual households.
Following a trial in Phoenix, Didja followed up with a launch in the Bay Area that featured dozens of local channels, including TV Azteca), Skylink, U Channel (Chinese), DiyaTV, Viet Bay, Net V, KPOP and Blues Television Network.
Didja's intentions include adding local feeds from major broadcasters such as ABC, NBC, Fox and CBS, and to eventually offer a lineup of up to 70 channels. Los Angeles is on its list of expansion markets.
The smarter way to stay on top of the multichannel video marketplace. Sign up below.
Thank you for signing up to Multichannel News. You will receive a verification email shortly.
There was a problem. Please refresh the page and try again.