Daydream View Reviews Roll In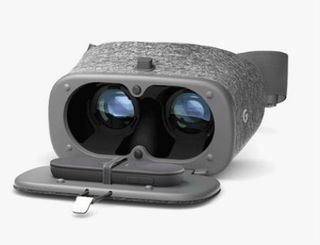 The Daydream View, Google's new mobile virtual reality headset/platform, becomes available today for $79, and most reviewers are liking what they've seen so far.
Here's a snapshot of some of the early reviews:
-The Vergegave Daydream View a score of 8.5. While it is similar to Samsung's Gear VR on a "structural level" and supports a hand-held controller, the pub noted there's "no flashy features on Daydream" like inside-out-cameras or eye-tracking.
But the View "is the best mobile headset I've ever used," Adi Robertson wrote, noting that it's smaller, lighter and more portable than the Gear VR. And like the PlayStation VR, the Daydream View "rests more weight on your forehead than your cheeks, an option I've found more comfortable — I can wear it easily for hours at a time, compared to about the five minutes I can hold a Google Cardboard to my face before my arms get stiff."
RELATED: VR 20/20: Reducing Friction Key to VR Adoption
-Wired said the best things about Daydream View are about "what it isn't: Complicated, Heavy. Expensive. Finicky." The reviewer also agreed that the headset can be worn and used comfortably "for long spells," while the controller "enhances every experience.
While Daydream View doesn't use positional-tracking VR capabilities like those found on cabled platforms like the HTC Vive or Oculus Rift, "for a constrained VR experience, this is as good as I've seen," the reviewer noted.
RELATED: Google Unveils Daydream View VR Headset, Controller
-The Wall Street Journal's Nathan Olivarez-Giles also found Daydream View to be lighter and more comfortable than the rival Gear VR, but warned that consumers should understand that it "can't come close to the level of precision found on more expensive and console VR systems" like the Vive and PS VR. Like the Gear VR, VR apps and games will rapidly drain the phone's battery.
-TechCrunch's Lucas Matney also liked Google's decision to go with a fabric-covered headset. "The View feels the least alien of any VR headset I've tried from a design standpoint and it's also proven to be one of the more comfortable ones," he wrote, but added that the width of the headset allows light to leak in – something that is "[a]nnoying, but not a deal breaker by any means."
The smarter way to stay on top of the multichannel video marketplace. Sign up below.