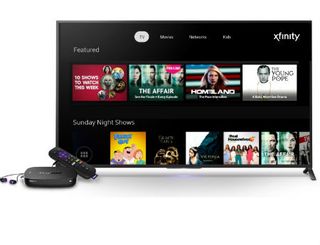 Even as some things change as cable operators pivot to IP video, others seem to stay the same.
A prime example is the this week's beta launch of the Xfinity TV app for Roku devices ahead of a commercial debut that will happen sometime later this year. Save for some minor limitations like access to transactional content (rental and purchased TV shows and movies), the app provides many of the core features that consumers can get from a Comcast-supplied box for its X1 service.
RELATED: Roku, Comcast Kick Off Xfinity TV App Beta Trial
And while the beta launch represents a step forward for a retail model that will let consumers buy set-top boxes and sidestep leasing fees, it's still not a giant leap forward for consumers who were hoping that they can avoid all of the fees that typically attached to set-tops that are leased from the operator.
Alongside the good things being said about the trial, a source of much teeth-gnashing and hand-wringing this week was Comcast's decision to charge outlet fees to customers who decide to use Roku devices as their primary outlet or as an additional outlet once the trial period ends.
Comcast is waiving those fees during the trial, but confirmed that customers will have the option to use the app on Roku devices as a "primary outlet," and receive a $2.50 credit on their bill (the primary outlet fee is included in the bill), similar to how the operator treats retail devices like TiVo boxes that are outfitted with CableCARDs. Additionally, customers who use a Roku as their secondary outlet will incur an additional outlet charge of $9.95 per month, but also receive a $2.50 credit, reducing that to $7.45. Customers will be able to opt-in for this after the trial, so that will do well to eliminate unwelcome surprises for customers who might not be paying attention to it now.
Comcast reasons that this policy reflects an extension of its current business practices. And while I understand that it makes business sense for Comcast to try to protect that revenue as it considers a possible future in which more consumers will use retail video devices to get their pay TV service from the operator, I have to ask: Is this as consumer-friendly as it could be, or should be?
Here's my answer: Of course it's not.
Applying outlet policies currently used for retail devices that rely on CableCARDS to the newer apps-based approach for Roku devices can't be done on an apples-to-apples basis. On a cost basis, the justifications of reapplying the old CableCARD retail fee model to this new, seemingly more elegant one just don't seem to add up.
Update: As another important point, Comcast does not charge an outlet fee if a customer accesses the Xfinity TV app in the home via a mobile device, like an iPad or iPhone, or on a Web browser.
Let's start with the CableCARD itself, a clunky security module that had one foot in the grave (and the other one teetering upon the edge of it) from a technological standpoint even before the July 2007 mandate took effect that required operators to deploy them in leased boxes while also supporting modules used in retail TiVo boxes and the rare HDTV that had CableCARD slots in them. Because "common reliance."
There are significant and tangible capital and operational costs associated with the CableCARD, which is why some MSOs lease them. Those modules (and the slots that contain them) cost extra, and slurp up more power than set-tops that use integrated or software-based security/conditional access systems. And that's just for retail devices. The cable industry, as part of its desire to kill the ban on set-tops with integrated security, has long-complained about high, unnecessary costs that the CableCARD requirement has foisted upon MSO-leased boxes.
And CableCARDs used in retail devices sometimes require truck rolls, and those costs aren't trivial.
Almost on cue, the NCTA-The Internet & Television Association just issued a report to the FCC that provides an update on the industry's CableCARD activities during Q4 2016.
Some stats:
-Cablevision Systems (now Altice USA) required pro installs for 28% of its CableCARD deployments, at an average cost of $39.95 per install, and logged 2,450 problems related to CableCARDs in the period.
-Charter Communications said it averaged 1.0 truck rolls to install a CableCARD in that same period, and the average cost for a pro install was almost $50.
-In Q4, Comcast deployed 4,121 new CableCARD installs, of which 1,857 required truck rolls, or 45%, and needed an average number of 1.03 truck rolls to install a CableCARD. The average cost to install a CableCARD was $34.65. In a point in its favor, Comcast does not charge a monthly lease rate for an initial CableCARD.
-Cox Communications required 1.09 truck rolls to install a CableCARD, and has a standard cost for a pro install of $50. Amazingly, Cox reported no CableCARD problems during the period, maybe because it added a role of "Regional CableCARD Liaison" to the process in late 2012 that is tasked with resolving all CableCARD-related issues (from local and corporate engineering, customer service, and the supply chain).
It's too early to know what the tangible costs will be for the Xfinity TV app offered on Roku devices, the one to come for Samsung smart TVs, and possibly other retail devices further down the road, but I'll go out on a limb and predict that those costs will be lower than those tied to devices that are weighed down by CableCARDs.
The shift to a retail model that centers on apps and pivots away from the CableCARD will certainly result in fewer truck rolls – that's been one of the big selling points, right? Granted, Comcast customers will still need to connect their Rokus to a Comcast IP gateway or a "cable service gateway" to make it work, so it's likely that not all of those people will take the self-installation route. Comcast techs will probably need to pay some of them a visit.
Of course, all of this ranting and raving about outlet fees for retail devices could be for naught as Comcast confirmed that it is evaluating its policies.
But I assert that the right thing to do is to further reduce the primary outlet fee and also reduce or even eliminate the additional outlet fee when customers use Rokus and other devices bought at retail to access their pay TV subscription from Comcast. The same should go for other cable operators.
That would not only be in the spirit of supporting the retail model, and one that the cable industry has insisted should be allowed ride the momentum of the marketplace and not on the wave of another government mandate, it would also provide some added justification for the decision this week by new FCC chairman Ajit Pai to pull a new set-top rules proposal that the cable industry so much wants to avoid.
I understand that protecting a revenue stream is important to any business, but applying these fees, even at a small discount, when the Roku trial ends simply looks bad against that backdrop. Plus, it's a missed opportunity to do what's right, if there is true interest in allowing for more consumer choice and supporting and cultivating a market for retail devices that can access a full-freight of MVPD services.
The smarter way to stay on top of the multichannel video marketplace. Sign up below.
Thank you for signing up to Multichannel News. You will receive a verification email shortly.
There was a problem. Please refresh the page and try again.