Comcast Starts to Deploy 4K/HDR X1 Box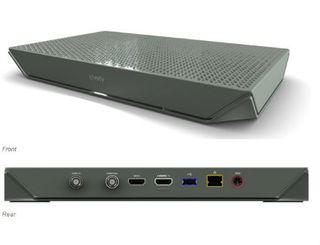 Comcast has begun to deploy a new whole-home DVR for its X1 platform called the XG4 that supports 4K and High Dynamic Range (HDR) video, an industry source confirmed.
The Arris-made device, spotted by Light Reading, has popped up on Comcast's X1 device comparison web site. FCC documents also offer a few more details, including this engineering prototype and a label referencing X1 licensee Cox Communications, about a "XGIv4" 4K set-top.
Comcast declined to comment on the XG4, but a person familiar with the product said the operator has begun to make it available on a limited basis.
According to the X1 site, the XG4 sports six tuners and an integrated DVR. At the recent NAB show in Las Vegas, Arris also showed off the MG2, a 4K-capable device that uses the TiVo interface.
Comcast is also testing an IP companion box, called the Xi6, that also supports 4K, but the operator has not announced when it will be released. Comcast is also deploying the Xi5, a wireless companion box for its X1 video service that supports HDR.
Comcast appears to be seeding the market with some of these devices ahead of a larger content initiative that will take advantage of 4K, a format that packs in four times the pixel density of HDTV, and HDR, which delivers brighter, more vivid pixels.
Comcast currently offers an OTT app for Samsung smart TVs that offers a sampling of 4K content. It will need more to keep up with some pay TV competitors that now offer select content in 4K, including Layer3 TV, DirecTV, and Dish Network. A group of telcos, including Verizon Communications and Frontier Communications, as well as several cable operators are also testing or deploying 4K services in partnership with SES.
RELATED: Layer3 TV Adds Live, On Demand 4K Fare

Update: "ComcastJessie," a handle for a Comcast employee, has published more detail about the XG1v4, including a front and back look at the device, on the Xfinity customer forum.
Per the post, the XG1v4 is an HD DVR device that also supports HDR10, 4K, and Bluetooth 4.2 capability, though HDR10 4K and Bluetooth won't be supported until later this year. "It will be available via professional installation only for new X1 customers, and regions can expect to continue using a mix of XG1s for new X1 installations," the post adds.
4K content also is not available at launch, though it will later support content in that format from Netflix and eventually "select" VOD, live and DVR content from Comcast.
The coming Bluetooth support will allow customers to pair the box to other Bluetooth devices, such as speakers or headphones, to stream audio, the post adds, noting that the feature is currently being reviewed at Comcast Labs.
The post also spells out more of the specs about the device, confirming six tuners and a 500 GB hard drive.
The smarter way to stay on top of the multichannel video marketplace. Sign up below.
Thank you for signing up to Multichannel News. You will receive a verification email shortly.
There was a problem. Please refresh the page and try again.