Comcast Pulls Remote DVR Scheduling Feature From Stream App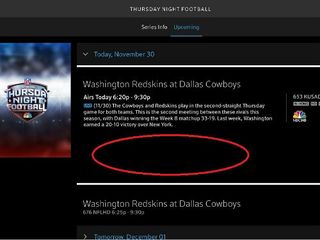 Comcast has yanked a feature from its Stream app for mobile devices and web browsers that enables subscribers to schedule DVR recordings remotely.
The removal of that feature comes a few days after the International Trade Commission issued a final ruling that Comcast had violated two TiVo patents, and a "limited exclusion order" that prohibits the importation of certain DVR receivers and software components.
That ruling is now undergoing a 60-day presidential review period. Comcast, which disagreed with the ITC's ruling, has removed the remote recording feature as it prepares to appeal.
Though Comcast customers currently can't set recordings remotely on the Stream app, they can still set recordings via the set-top box. Additionally, Comcast customers can still use the Stream app to playback (and download) DVR-recorded content (that component is enabled by X1's cloud DVR service).
GeekWire was first to report that Comcast had removed the remote recording feature from the Stream app, and noted that Comcast has yet to update its FAQs (for the Stream app and the Xfinity TV Remote App) to reflect the change.
In the meantime, the ComcastCares Twitter handle has been responding to customers who are confused as to why that feature is currently unavailable.


@XFINITY@comcastcares@comcast What happened to the "Record Program" functionality from the Stream TV app? I no longer have the option to record a show using my phone. What gives? pic.twitter.com/RioWsrGWAs
— Gary Awesome (@wizwit101) November 30, 2017
That functionality has been removed from our apps. If you're away from your DVR box and cannot schedule a recording and miss a show, check to see if it's available on XFINITY On Demand! We apologize for the inconvenience.- RO
— ComcastCares (@comcastcares) November 30, 2017
I apologize for the inconvenience. Due to a judicial ruling, we are disabling this feature while we pursue an appeal. - Noah
— ComcastCares (@comcastcares) November 30, 2017
The smarter way to stay on top of the multichannel video marketplace. Sign up below.