Comcast Appears to Be Trying New Twist on 'Send To TV' Beta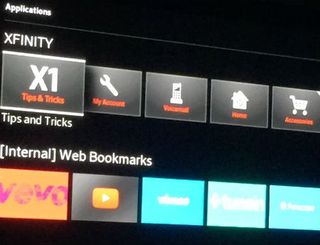 Comcast's X1 platform already supports integrated access to a small number of OTT apps such as Pandora, the MSO's new ad-supported Watchable service, and has plans to add Netflix to that list later this year.
In the meantime, Comcast has also been beta-testing a feature called "Send To TV" that uses a "bookmarklet" app/extension for browsers, including Chrome, Firefox, Safari and Internet Explorer, that lets the user send content from browsers on PCs, smartphones or tablets to the TV screen. Depending on how a web site is tagged, it'll send the video itself or mirror the contents of the Web page it's running on. It's sorta like Google Cast, but definitely more of a kluge.
Send To TV has been in beta for years and Comcast hasn't announced if it will ever take it further down the path to the commercial rollout phase. In fact, the company really hasn't said much of anything about it for at least three years. It's just…there.
But it looks like Comcast might be tinkering around a bit with the feature. A Comcast customer claiming to be in New Jersey posted on our message boards an image of the X1 screen with what looks like an updated twist on Send To TV that presents "Web Bookmarks" for services such as Vevo, YouTube, Vimeo, TuneIn and Periscope.
Comcast isn't commenting on what this is, but the bookmarks shown in the image are also labeled as "[Internal]," suggesting that this might be a technical trial, perhaps limited to a small batch of employees in the area.
We've asked the person who posted it, "MeT00," to offer some further explanation, but haven't heard back. The person did make note that these Web Bookmarks only show up on the home's "XG2" device, a new gateway for X1 that supports four tuners but does not include a local DVR, and not the Xi3 IP-only client devices that attach to the XG2.
Perhaps this test represents a streamlined and easier way to get OTT content to X1 boxes using this content-casting feature. I've tried out Send To TV a few times and, while it seems to work for some content, it's not the most user-friendly thing I've ever used, so any improvement to it would be a welcome one.
If you've seen this and had a chance to try it out, drop us a line and let us know more about what it's about and what you think of it.
The smarter way to stay on top of the multichannel video marketplace. Sign up below.
Thank you for signing up to Multichannel News. You will receive a verification email shortly.
There was a problem. Please refresh the page and try again.