CloudAntenna: Another [Legal] Aereo Wannabe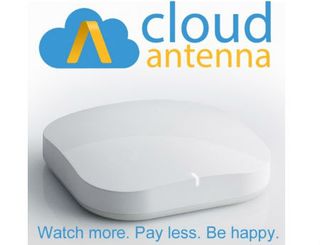 There's no shortage of startups and established companies that are launching or developing products that aim to deliver on the promise of the now-defunct Aereo, but do so legally.
We've got, by way of example, TiVo, which has an over-the-air/OTT combo DVR and the rights to the Aereo trademarks, and Telletopia Foundation, a non-profit that wants to offer a TV streaming service by making retrans payments. Comcast, meanwhile, is trying out Stream TV, a service for broadband subs that offers the major broadcast networks, HBO, VOD paired with a cloud DVR.
Here's another to add to the mix: CloudAntenna.
San Diego-based CloudAntenna claims it has "reinvented Aereo" (even its logo looks a lot like  Aereo's) with a device that receives over-the-air TV signals on a digital antenna, can record shows locally and in the cloud, skip ads, supports an interactive program guide, and ties into the company's FreeAir.tv service.
Per the startup, the system lets users view up to four live TV channels at the same time and control the experience via an app for smartphones and tablets. Connectivity-wise, it supports wired links, WiFi and a 4G radio, making it mobile. There's a free option that supports OTA TV, the guide, and a recommendations feature, a "Cloud TV" option for $1.99 per month that starts with 40 hours of recording, and a $9.99 per month World TV service that includes the Cloud TV component plus access to more than 600 international TV channels and a library of about 100,000 international films.
Under a preorder campaign, CloudAntenna is making its product and a year of service available for $79 (the regular retail price will be $299) via crowdfunding site Indiegogo through the end of the year. It's making 100 units available at that "insider special" price, and 47 have already been claimed, according to the site. CloudAntenna expects to start deliveries by June 2016.
In the meantime, it's got some work to do on the money front. At last check, it has signed on 79 "backers" via Indiegogo, raising $6,213 -- 2% of a "flexible goal" of $250,000, meaning the campaign will receive all funds even if the goal is not reached.
Update: CloudAntenna founder Vlad Kroutik noted in an email that the company has already developed a device, so it considers the Indiegogo campaign as a "soft launch to test consumer appetite for another device in their living room." The company has added 4G LTE capabilities and is now working on a VoIP service, he added.
CloudAntenna, meanwhile, has posted a video about the offering, which is obviously targeted at cord-cutters, that includes segments showing people doing some not-so-nice things to the much-maligned set-top box to  Queen's "I Want to Break Free":
Weekly digest of streaming and OTT industry news
Thank you for signing up to Multichannel News. You will receive a verification email shortly.
There was a problem. Please refresh the page and try again.